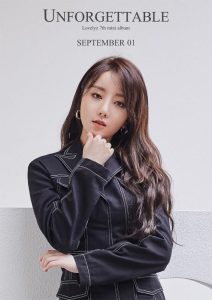 Kei is a member of a South Korean girl group named Lovelyz . Group consists of 8 members: Baby Soul, Jiae, Jisoo, Mijoo, Kei, Jin, Sujeong, and Yein. They debuted on November 12, 2014. This girl group under Woollim Entertainment. Woollim Entertainment released an announcement that the group will be disbanding on November 16th, 2021 due to Baby Soul being the only member to renew her contract.
Her stage name is Kei (케이). Her Birth Name is Kim Ji Yeon (김지연). Her Birthday is on March 20, 1995. Her age is around 27 years old as of 2022. She is Korean By Nationality. Her Zodiac sign is Pisces.
She is the Lead Dancer and  Main Vocalist of the  group.
Check out and follow Kei's Social Media accounts:
DCINSIDE: lovelyzkei
Woollim Entertainment Profile: Kei (Kim Ji Yeon)
Instagram: _flower_kei
Twitter: N/A
Facebook: N/A
Early Life:
She was born in Incheon, South Korea.
She graduated from Incheon Misan Elementary School.
She also graduated from Samsan Middle School & Incheon Yeongseon High School.
Not much is known about her early life.
Physical Appearance:
She is Young, beautiful, and hot. She has a slender figure. She is hugely popular among youth. She looks like a doll. She has Slim Build. Her looks make her look younger than her actual age. She has black eyes and black hair. She has beautiful eyes that look very appealing and long silky hair.
Her height is around 162 cm (5'3") and her weight is around 47 kg (103 lbs). Her blood group is "O".
Family, Religion & Boyfriends:
Her older sister is a professional traditional dancer.
Not much is known about her family and her personal relationship.
Facts:
She is having 126k+followers on Instagram.
Cooking and acting are her hobbies.
Her shoe size is 230mm.
In INFINITE's Man, she danced with L.
She acted in the web drama "Matching! Boys Archery Club" in 2016.
She participated in the "Girl Spirit" reality tv singing competition.
She Appeared in MBC's "King of Masked Singer" Jerry and advanced until the 2nd round.
She made her musical debut with "30 Something" as Okhee.
She dislikes pickles and anything with vinegar, food with strong smells, cinnamon, cucumber, mint.
She reportedly resign from "Music Bank" on 28 June 2019 after a year of hosting, when she was the MC of KBS2's Music Bank.
Kei and Mijoo share a room.
She debuted as a soloist on October 8, 2019, with the single "I Go".
Someone who has leadership skills and who she is comfortable with. Yein said Kei likes a prince on a white horse is her ideal type.
She said Kim Soo-hyun is her ideal type.
She released a soundtrack for the KBS drama "Oh My Venus", titled "Love Like That".
She released a soundtrack for the MBC drama "Lucky Romance", titled "Shooting".
She did not was having a crush since elementary school because she was a trainee since she was young.
She loves Rilakkuma.
She has a dog.
She slipped on stage while she was performing in the "Lovelyz in Winter Wonderland 2" concert.
She cried and performed while sitting on a chair.
Laboum's Haein and Twice's Momo are her close friends.
She can't drink alcohol.
She thinks her legs are the most attractive part of her body.
Favourites:
Pastel pink, mint, and all pastel colours are her favourite colours.
Meat, jokbal (pig trotters), samgyupsal (pork belly), and chicken is her favourite food.
Clothing that is a bit unique and not mainstream. Something that brings out her uniqueness is her style of clothing.
K-dramas:
Love Like That – Oh My Venus OST
Shooting Lucky – Romance OST
Star and Sun – Ruler: Master of the Mask OST
You Lately, Me Lately – Queen of Deduction 2" OST
Let's Pray – Rich Man OST
Can You Hear Me – The Last Empress OST
My Absolute Boyfriend -My Absolute Boyfriend OST
Check out and follow Lovelyz's official accounts: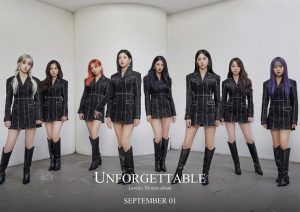 Website: Lovelyz
TikTok: lovelyz_official
V Live: Lovelyz
Fancafe: Daum Cafe
Weibo: Lovelyz
Instagram: official_lvlz8_
Twitter (Japan): Official_LVLZ
Twitter: official_lvlz
YouTube:  lvlz8
Facebook: Lovelyz
Latest Comeback: