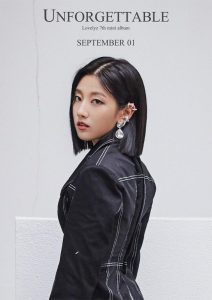 Yein is a member of a South Korean girl group named Lovelyz. Group consists of 8 members: Baby Soul, Jiae, Jisoo, Mijoo, Kei, Jin, Sujeong, and Yein. They debuted on November 12, 2014. This girl group is under Woollim Entertainment. Woollim Entertainment released an announcement that the group will be disbanding on November 16th, 2021 due to Baby Soul being the only member to renew her contract.
Her stage name is Yein (예인). Her Birth Name is Jung Ye In (정예인). Her Birthday is on June 4, 1998. Her age is around 23 years old as of 2022. She is Korean By Nationality. Her Zodiac sign is Gemini.
She is the  Lead Dancer, Maknae and Vocalist of the group.
Check out and follow Yein's Social Media accounts:
DCINSIDE: lovelyz_yein
YouTube:  N/A
Instagram: happpy_yein
Twitter: N/A
Facebook: N/A
Early Life:
She was born in Incheon, South Korea.
She graduated from Buil Elementary School.
She also attends the Gusan Middle School (transferred) & Korea International Christian School.
She used to be a trainee under JYP Entertainment.
In July 2014, She joined Woollim. 
Physical Appearance:
She is Young, beautiful, and hot. She has a slender figure. She is hugely popular among youth. She looks like a doll. She has Slim Build. Her looks make her look younger than her actual age. She has black eyes and black hair. She has beautiful eyes that look very appealing and long silky hair.
Her height is around 166 cm (5'5″) and her weight is around 49 kg (108 lbs). Her blood group is "B".
Family, Religion & Boyfriends:
She has a younger sister.
Not much is known about her family and her personal relationship.
Facts:
She is having 205k+followers on Instagram.
"Deer/Elk" is her nickname that comes from her big eyes like those of a doe.
She use to be a fitting model during her middle school days.
She is the best English speaker in the group.
She went on an exchange program to Canada for a month.
She is the most competitive.
She got injured during practice so she wasn't able to join the beginning of WoW promotions.
Topp Dogg's Yano admitted to having a crush on Yein, in 2015.
Yein acted in the web drama "The Blue Sea" (2017) and in the Korean version of "Criminal Minds" (cameo – 2017).
Shopping and listening to music is her hobbies.
She likes taking mirror selfies.
She acted in "The Gentlemen of Wolgyesu Tailor Shop".
She was a special MC for On Style's "Get it Beauty" show.
Yein and Jiae share a room.
Someone who is full of charms, she doesn't care about looks is her ideal type.
She appeared in Incheon K-Pop Concert 2017 VCR along with Wanna One's Ong Seongwoo to promote Incheon.
Her limit is two cans of beer.
She prefers beer over other alcoholic drinks.
While drinking canned beers she likes eating crab sticks.
She suddenly becomes quiet when she is eating.
When she was in middle school, She was in Incheon Junior Cheerleading Team for Seo Jang-hoon's team.
During her middle school days, she was the fitting model.
It was announced that Yein has officially signed with Sublime Artist Agency, On January 11th, 2022.
She used to do ballet, traditional dance and modern dance.
Modern dance and tumbling are her specialities.
She is confident with her wrists and collarbones.
Favourites:
White is her favourite colour.
Chicken feet, cartilage, and everything that's delicious is Yein's favourite food.
Street fashion is her favourite style of clothes.
Check out and follow Lovelyz's official accounts: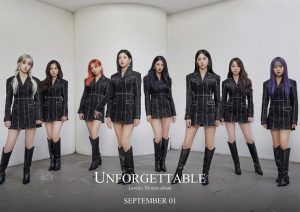 Website: Lovelyz
TikTok: lovelyz_official
V Live: Lovelyz
Fancafe: Daum Cafe
Weibo: Lovelyz
Instagram: official_lvlz8_
Twitter (Japan): Official_LVLZ
Twitter: official_lvlz
YouTube:  lvlz8
Facebook: Lovelyz
Latest Comeback: