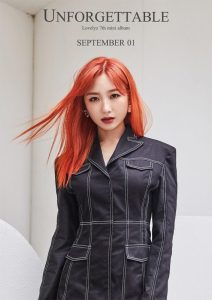 Sujeong is a member of a South Korean girl group named Lovelyz . Group consists of 8 members: Baby Soul, Jiae, Jisoo, Mijoo, Kei, Jin, Sujeong, and Yein.  They debuted on November 12, 2014. This girl group under Woollim Entertainment. Woollim Entertainment released an announcement that the group will be disbanding on November 16th, 2021 due to Baby Soul being the only member to renew her contract.
Her stage name is Sujeong (수정). Her Birth Name is Park Myung Eun (박명은). Her Birthday is on November 19, 1997. Her age is around 24 years old as of 2022. She is Korean By Nationality. Her Zodiac sign is Scorpio.
She is the Lead Vocalist of the  group.
Check out and follow Sujeong's Social Media accounts:
Woollim Entertainment Profile: Ryu Su Jeong
SoundCloud: 2wnvutk1zsn6
YouTube:  류수정 iloveryu
Twitter: N/A
Facebook: N/A
Early Life:
She was born in Daejeon, South Korea.
She graduated from the  Daedeok Elementary School.
She also graduated from the Daedeok Middle School.
She got transferred from the Daejeon Yongsan High School and Jungang Girls' High School.
She was also graduated from the Seoul Performing Arts High School in the Practical Music Department.
Not much is known about her early life.
Physical Appearance:
She is Young, beautiful, and hot. She has a slender figure. She is hugely popular among youth. She looks like a doll. She has Slim Build. Her looks make her look younger than her actual age. She has black eyes and black hair. She has beautiful eyes that look very appealing and long silky hair.
Her height is around 168 cm (5'6.1″) and her weight is around 48 kg (105 lbs). Her blood group is "B".
Family, Religion & Boyfriends:
Her older sister is an artist.
Not much is known about her family and her personal relationship.
Facts:
She is having 180k+followers on Instagram.
Ryuvely is her nickname.
On May 20, 2020, she debuted as a soloist with the single "Tiger Eyes".
She is considered 'The Brain of Lovelyz'.
In INFINITE's Man, she danced with Sungyeol.
She  and Babysoul sang the OST "Clean" for the drama "Second to Last Love".
On July 14, 2017, they created a 7 members girl group, called Girls Next Door, which debuted and She was, alongside other 6 female idols, in the "Idol Drama Operation Team" tv program.
She was chosen as an MC for "MTV Best of the Best".
Playing the guitar is her hobby.
Her shoe size is 245mm.
She dislikes pickles and food with vinegar in it.
She like to take mirror selfies.
She and Baby Soul share a room.
Mature person whom I can look up to and Someone who can make her laugh but is serious when needed to be is her ideal type.
Two bottles of soju were like the utmost amount that she have tried and She has never gotten fully drunk.
She really likes Mexican food.
She personal talent is imitating Doraemon's voice.
She auditioned at Woollim with a cover of SNSD's "Oh!".
She wrote the lyrics to "Hide and Seek" which was included in the "R U Ready?" album.
She is the crybaby.
She is confident with her big eyes even without circle lenses.
Favourites:
 The kitsch look is her favourite style of clothes.
Nachos, chicken feet, and cheese, chicken, braised spicy chicken is her favourite food.
Pastel pink is her favourite colour.
Check out and follow Lovelyz's official accounts: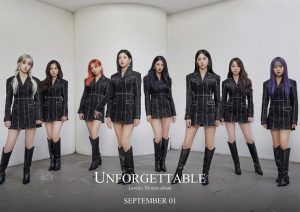 Website: Lovelyz
TikTok: lovelyz_official
V Live: Lovelyz
Fancafe: Daum Cafe
Weibo: Lovelyz
Instagram: official_lvlz8_
Twitter (Japan): Official_LVLZ
Twitter: official_lvlz
YouTube:  lvlz8
Facebook: Lovelyz
Latest Comeback: