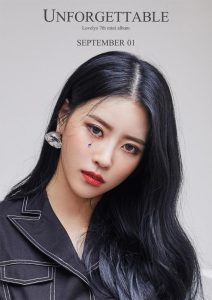 Mijoo is a member of a South Korean girl group named Lovelyz . Group consists of 8 members: Baby Soul, Jiae, Jisoo, Mijoo, Kei, Jin, Sujeong, and Yein. They debuted on November 12, 2014. This girl group under Woollim Entertainment. Woollim Entertainment released an announcement that the group will be disbanding on November 16th, 2021 due to Baby Soul being the only member to renew her contract.
Her stage name is Mijoo (미주). Her Birth Name is Lee Seungah (이승아). Her Birthday is on September 23, 1994. Her age is around 27 years old as of 2022. She is Korean By Nationality. Her Zodiac sign is Libra.
She is the Main Dancer and Vocalist of the  group.
Check out and follow Mijoo's Social Media accounts:
Instagram: queen.chu_s
Twitter: miiiiii_jooooo
YouTube: N/A
Facebook: N/A
Early Life:
She was born in Okcheon Country, North Chungcheong, South Korea.
Her major in high school was E-commerce.
She graduated from Samyang Elementary School.
She also graduated from Okcheon Girls' Middle School & Okcheon Commercial High School in the Internet Commerce Department.
She used to attend Big Bang's Seungri's Dance Academy.
Physical Appearance:
She is Young, beautiful, and hot. She has a slender figure. She is hugely popular among youth. She looks like a doll. She has Slim Build. Her looks make her look younger than her actual age. She has black eyes and black hair. She has beautiful eyes that look very appealing and long silky hair.
Her height is around 165 cm (5'4") and her weight is around 47 kg (103 lbs). Her blood group is "O".
Family, Religion & Boyfriends:
Her father works as a middle school P.E teacher.
Not much is known about her family and her personal relationship.
Facts:
She is having 403k+followers in instagram.
She is the most fashionable in the group.
When she was in high school, she learned jazz.
She is the Messiest member.
She can not swim.
Her shoe size is 240~245mm.
She acted in Infinite's MV "Last Romeo".
In INFINITE's Man, she danced with Sunggyu.
She appeared in Mnet's dance competition show "Hit the Stage".
Watching movies and listening to music are her hobbies.
She doesn't like  strong tastes foods.
She acted in "I'm A Job Seeker" in the web drama and  "The Gentlemen of Wolgyesu Tailor Shop" .
She is one of the MCs for JTBC4's My Mad Beauty 2.
Sixth Sense  show was aired from 3 September 2020 until 29 October 2020.
She was a cast member on that show.
She and Kei share a room.
Someone who has a nice smile, has deep thoughts, and only looks at her is her ideal type.
Her alcohol tolerance is one and half or two bottles of soju.
She likes to eat sesame oil laver while drinking.
She wants to go on a trip to Japan with her parents, When they make a lot of money.
One who makes snacks is her carrier wish.
She is close with Red Velvet's Seulgi, Dreamcatcher's JiU and Pristin's Yuha.
She is most fashionable in the group.
Favourite:
Meat and sundae-tteokbokki (rice cake)-twigim (fritters) set is her favourite food.
Tight clothing is her favourite style of clothing.
Red is her favourite colour.
Check out and follow Lovelyz's official accounts: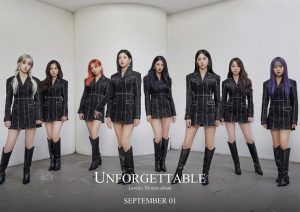 Website: Lovelyz
TikTok: lovelyz_official
V Live: Lovelyz
Fancafe: Daum Cafe
Weibo: Lovelyz
Instagram: official_lvlz8_
Twitter (Japan): Official_LVLZ
Twitter: official_lvlz
YouTube:  lvlz8
Facebook: Lovelyz
Latest Comeback: