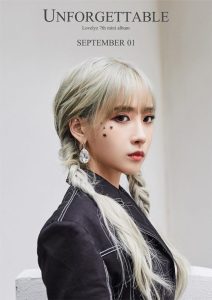 Jiae is a member of a South Korean girl group named Lovelyz  . Group consists of 8 members: Baby Soul, Jiae, Jisoo, Mijoo, Kei, Jin, Sujeong, and Yein. They debuted on November 12, 2014. This girl group under Woollim Entertainment. Woollim Entertainment released an announcement that the group will be disbanding on November 16th, 2021 due to Baby Soul being the only member to renew her contract.
Her stage name is Jiae (지애). Her Birth Name is Yoo Ji Ae (유지애). Her Birthday is on May 21, 1993. Her age is around 28 years old as of 2022. She is Korean By Nationality. Her Zodiac sign is Gemini.
She is the Rapper, Visual and Vocalist of the  group.
Check out and follow Jiae's Social Media accounts:
Delight: www.loveujiae.com
DCINSIDE: jiae
Instagram: 9.3.0521
Twitter: N/A
YouTube: N/A
Facebook: N/A
Early Life:
She was born in Seoul, South Korea.
She graduated from the Northeast Elementary School and Jeongui Girls' Middle School.
She transferred from Miyang High School.
She graduated from the Seoul Performing Arts High School in Video Arts.
Not much is known about her early life.
Physical Appearance:
She is Young, beautiful, and hot. She has a slender figure. She is hugely popular among youth. She looks like a doll. She has Slim Build. Her looks make her look younger than her actual age. She has black eyes and black hair. She has beautiful eyes that look very appealing and long silky hair.
Her height is around 158 cm (5'2") and her weight is around 45 kg (99 lbs). Her blood group is "O".
Family, Religion & Boyfriends:
In her family, she have Mother, a father, an older sister (Yoo Miae).
Not much is known about her family and her personal relationship.
Facts:
She is having 129k+followers on Instagram.
She bakes desserts for the members, so she is the mother of the group.
"Elephant Jiae" is her nickname.
She showed up as INFINITE's little sister in their debut variety show You're My Oppa.
The members said it was kind of serious that she has a habit of sleepwalking.
In 2013, she debuted as a solo artist with the single Delight.
She became a trainee after her appearance in that show.
She danced with Sungjong in INFINITE's Man in Love Performance for Gayo Daejun.
She can play the piano.
Her shoe size is 235mm.
Watching movies, exercising, dancing, acting are her hobbies.
She acted in "The Gentlemen of Wolgyesu Tailor Shop".
In 2010, she made a cameo appearance on KBS TV Drama "God of Study".
She used to be a model for "Yozo" in her pre-debut days.
She and Yein share a room. 
Someone smart with a sense of humour and Someone who is hardworking and can always take care of her is her ideal type.
She prefers champagne over other alcoholic drinks.
She often eat fruits and fish cake soup, When Jiae drink with her parents.
In 2014, "I can live on ice cream for 365 days of the year."  with Yoo Jiae as the Debut Showcase.
In 2012, she appeared in Running Man pre-debut.
The second member of "The Three Musketeers", the 3 Lovelyz members who trained the longest.
She is known to be close with MyName's JUN.Q, for being in the same class in high school.
She is close with April's Jinsol.
SNSD's Taeyeon is her role model.
She thinks her wrist is the most attractive part of her body.
Favourites:
White is her favourite colour.
Strawberries are her favourite food.
Check out and follow Lovelyz's official accounts: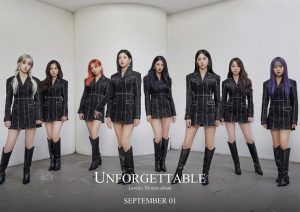 Website: Lovelyz
TikTok: lovelyz_official
V Live: Lovelyz
Fancafe: Daum Cafe
Weibo: Lovelyz
Instagram: official_lvlz8_
Twitter (Japan): Official_LVLZ
Twitter: official_lvlz
YouTube:  lvlz8
Facebook: Lovelyz
Latest Comeback: