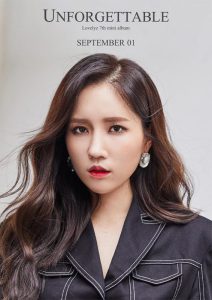 Jin is a member of a South Korean girl group named Lovelyz . Group consists of 8 members: Baby Soul, Jiae, Jisoo, Mijoo, Kei, Jin, Sujeong, and Yein. They debuted on November 12, 2014. This girl group is under Woollim Entertainment. Woollim Entertainment released an announcement that the group will be disbanding on November 16th, 2021 due to Baby Soul being the only member to renew her contract.
Her stage name is Jin (진). Her Birth Name is Park Myung Eun (박명은). Her Birthday is on June 12, 1996. Her age is around 25 years old as of 2022. She is Korean By Nationality. Her Zodiac sign is Gemini.
She is the Main Vocalist of the group.
Check out and follow Jin's Social Media accounts:
SoundCloud: myung_eun
YouTube: LOVEME_JIN
Instagram:myungnee_
Twitter: N/A
Facebook: N/A
Early Life:
She was born in Busan, South Korea.
She was born in Seoul but her parents are from Busan so she picked up the dialect accent. Her dialect comes out when she's on the phone with her mom.
She had been a trainee since her middle school years.
She was a vocalist in her school band.
She graduated from Sookmyung Girls' Middle School.
She also graduated from the  Korea Arts High School in the Music Department.
Physical Appearance:
She is Young, beautiful, and hot. She has a slender figure. She is hugely popular among youth. She looks like a doll. She has Slim Build. Her looks make her look younger than her actual age. She has black eyes and black hair. She has beautiful eyes that look very appealing and long silky hair.
Her height is around 162 cm (5'3") and her weight is around 47 kg (103 lbs). Her blood group is "B".
Family, Religion & Boyfriends:
Not much is known about her family and her personal relationship.
Favourites:
Spaghetti, mom's seaweed soup, dad's galbijjim, and tteokbokki is her favourite food.
White and black are her favourite colours.
Facts:
She is having 71k+followers on instagram.
She is the Most awkward member.
She is having a variety of skills.
She has a 4D personality.
Her shoe size is 255mm.
In 2013, she debuted as a solo artist, with the single "Gone".
In INFINITE's Man, she danced with H's.
She danced with Hoya in INFINITE's Man.
Listening to music and harmonizing are her hobbies.
She dislikes sashimi.
Jin and Jisoo share a room.
She appeared in King of Masked singer too as "Cassette Girl".
She is wearing braces now for the next two years.
Someone hardworking who is cold outside but with a warm heart is her ideal type.
She thinks the most attractive part of her body is her hands.
After debuting a message sent by Woollim's CEO, she got caught after secretly using the messenger that was prohibited.
She got a stomachache because she had excessive gas in her stomach before performing which turned out after being examined, In their debut stage.
Her alcohol tolerance is one bottle of soju or two cans of beer.
She likes to do parting.
She wants to start a business for her parents and they make a lot of money.
To open a fruit store with her future husband is her carrier wish.
She use to do things that no one understands.
She loves Snoopy.
When people call her "Myungeun–ah!" she likes it.
Woollim's director got her stage name from a Japanese video game he was playing named JIN.
Lee Sungkyung and Park Boram are her role models.
She likes to take mirror selfies.
Favourites:
Spaghetti, mom's seaweed soup, dad's galbijjim, and tteokbokki is her favourite food.
White and black are her favourite colours.
Check out and follow Lovelyz's official accounts: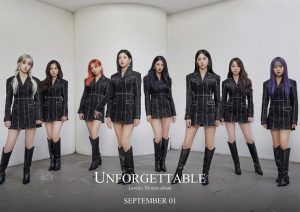 Website: Lovelyz
TikTok: lovelyz_official
V Live: Lovelyz
Fancafe: Daum Cafe
Weibo: Lovelyz
Instagram: official_lvlz8_
Twitter (Japan): Official_LVLZ
Twitter: official_lvlz
YouTube:  lvlz8
Facebook: Lovelyz
Latest Comeback: