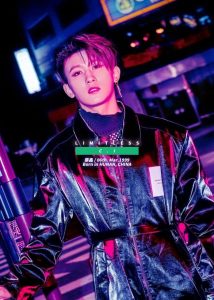 C.I is a member of a South Korean boys group named OCJ Newbies. The group consists of 14 members: Hyunsik, Noah, C.I, Zodu, Ricky, Austin, Beomsu, Dongbin, Leo, Gyumin, and Dabin. There are 3 unconfirmed members: Jaeeok, Taoyuan, and Chibin. They're likely to debut in China and South Korea, but the debut date is currently unknown. They are currently working under the Chinese agency One Cool Jasco.
His stage name is C.I (씨아이). His Birth Name is Cai Xiao Xin (蔡小鑫). His birthday is on March 6, 1999. His age is around 23 years old as of 2022. He is Chinese By Nationality. His Zodiac sign is Pisces.
His position in the group is not known.
Check out and follow C.I's Social Media accounts:
Twitter: N/A
Instagram: @caixin_c.i
YouTube: N/A
Facebook: N/A
Early Life:
He was born in Hunan, China.
Not much is known about his early life.
Physical Appearance:
He is young, smart, and handsome. He is popular among youths. His looks make him look younger than his actual age. He has brown eyes and light brown hair.
His height is around 190 cm (6'2″) and his weight is around 65 kg (140 lbs). His Blood group is "not known".
Family, Religion & Relationships:
Not much is known about his family and his personal relationship.
Facts:
He is having 1k+ followers on Instagram.
His Instagram account is private.
In November 2019 he was added as a member.
He believes music is an opportunity to share his sincerity with the world.
He strives to make sure that his music is understood beyond mere translation, but rather, in a way that leaves a mark on the listener.
In Limitless he was a member, but it is unclear when he left.
He is continuously putting effort to make his music more engaging.
Check out and follow the OCJ Newbies's official accounts:
Instagram: ocjnewbies
Twitter: ocjnewbies
TikTok: ocjnewbies
YouTube: N/A
Facebook: N/A