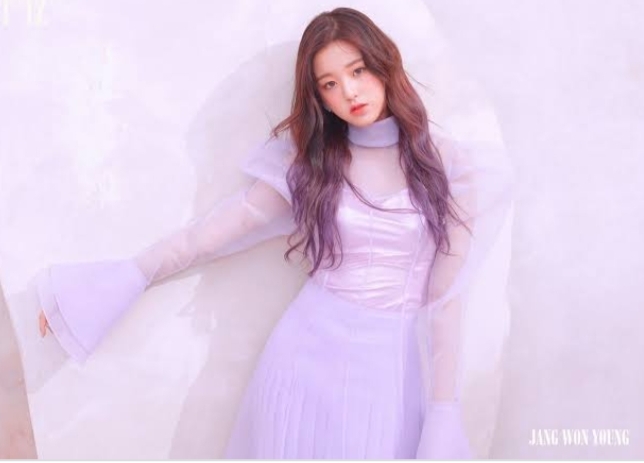 Wonyoung (원영)  is a member of the South Korean Collaborative group named Maknaes. They performed "I Don't Know" by APINK on 18 December 2020 at the KBS Song Festival. The group includes 4 members from different groups:  Arin (OH MY GIRL), Shuhua ((G)I-DLE), Yuna (ITZY), and Wonyoung (IZ*ONE).
Her stage name is Wonyoung (원영). Her Birth Name is Jang Won Young (장원영). Her Chinese name is Chang Yuanying (張員瑛). Her English name is Vicky Jang. She was born on 31 August 2004. Her age is 17 years old as of 2021. She is Korean By Nationality. Her Zodiac sign is Virgo. Her Chinese Zodiac sign is Monkey.
Check out and follow Wonyoung's Social Media accounts:
Instagram: for_everyoung10
Twitter: N/A
YouTube: N/A
Facebook: N/A
Early Life:
She was born in Ichon dong, Yongsan-gu, Seoul, South Korea. She started her schooling at Seoul Shinyongsan Elementary School and after graduation went to Yonggang Middle School but dropped out. She entered Seoul performing Arts high School in majoring in practical music in 2020 after giving a qualification exam.
Physical Appearance:
She is Young, beautiful, and hot. She has a slender figure. She is hugely popular among youth. She looks like a doll. She has Slim Build. Her looks make her look younger than her actual age. She has black eyes and brown hair. She has beautiful eyes that look very appealing and long silky hair.
Her height is around 5'8" (173 cm) and her weight is around 47 kg (103 lbs). Her Blood Type is "O".
Family, Religion & Boyfriends:
She has a mother, father, and an older sister, who is 3 years older than her, in her family. Her father is a music teacher.
Facts:
She

has 3.1M+ followers on Instagram.
She can speak Korean and English fluently
She attended Flute, Piano, Violin, and Swimming classes as a child.
She is half Taiwanese because her mother is part Taiwanese and part Korean but her father is Korean, grew up in Taiwan.
She was scouted by Starship Entertainment on the streets after attending her sister's middle school graduation ceremony.
She also tutored in Mathematics and English.
She participated in the survival show Produce 48 after 1 year and 2 months of training.
Her father asked his students to support her daughter.
She got the first rank in the show Produce 48.
She is the model and Brand Ambassador of Brand Prada.
 Her last words for Produce 48 are: "Starship's Jang Won Young, please like me very much … ♡".
Her birthday fell on the same day as the Produce48 final and so she debuted and got the center position on her birthday.
She was part of Love Potion on Produce48.
She is a former member of the Korean-Japanese group IZ*ONE formed after the Show Produce 48 under Off The Record label.
The group debuted on 29 October 2018 in Korea and disbanded on 29 April 2021.
She was revealed as a sixth member of the IVE girl group on 4 November 2021 by Starship Entertainment.
She was chosen as a model on an MV of "Pepsi Korea" named "Love it Live it" along with YDPP and Park Sun.
She appeared on many magazine covers like Beauty Korea, Vogue Korea, Elle Korea for various brand name beauty products such as Dior, Miu Miu, and Laura Mercier.
She used to wear braces.
She likes spicy food.
The other trainees complimented her body ratios, her legs are rather long on the show.
She likes tarts more than cakes.
She wants to remake Lee Hyori's "U-Go-Girl".
She is chosen as the new muse and global ambassador for cosmetic brand Innisfree by Amorepacific Corporation on 27 July 2021.
She can wink 63 times in 30 seconds.
Her nicknames are "Born to be Center" "Giant Baby" and "Giant Maknae".
She was one of the youngest trainees on Produce48.
She is officially announced as Kirsh's new muse in October 2021.
She represented Kirsh as a brand chosen model for the 2021 winter collection.
Her Official Color is a shade of pink called Cindy Pink 10.
She enjoys playing with her sister when she is at home.
She likes to do Hip Hop.
Her favorite Disney princess is Snow White.
She can't cook.
She said that she can't even cook ramen well.
She is also a brand ambassador of the brand Miu Miu and appeared on Harper's Bazaar Korea Magazine December 2021 issue.
Her favorite ice cream flavor is Mint Chocolate.
Some netizens thought that Wonyoung and fromis_9's Gyuri looked alike.
She got 88th place on TC Candler's "The 100 Most Beautiful Faces of 2018".
She got an invitation from Dispatch's Girl Group Maknaes' promotional Christmas party.
She appeared on Jewelry Brand Chaumet's Josephine Collection fashion film.
She is the tallest member of the group.
She shares a room with Chaeyeon.
She is also chosen as a model on an MV named "ZERO: ATTITUDE" for Pepsi 2021 kpop campaign.
She considers Jin Jihyun as her role model.
She appeared in Vogue Miu Miu fashion film.
She said if she were a boy, she'd date Nako(a member of IZ*ONE).
Check out and follow the Maknaes's official accounts: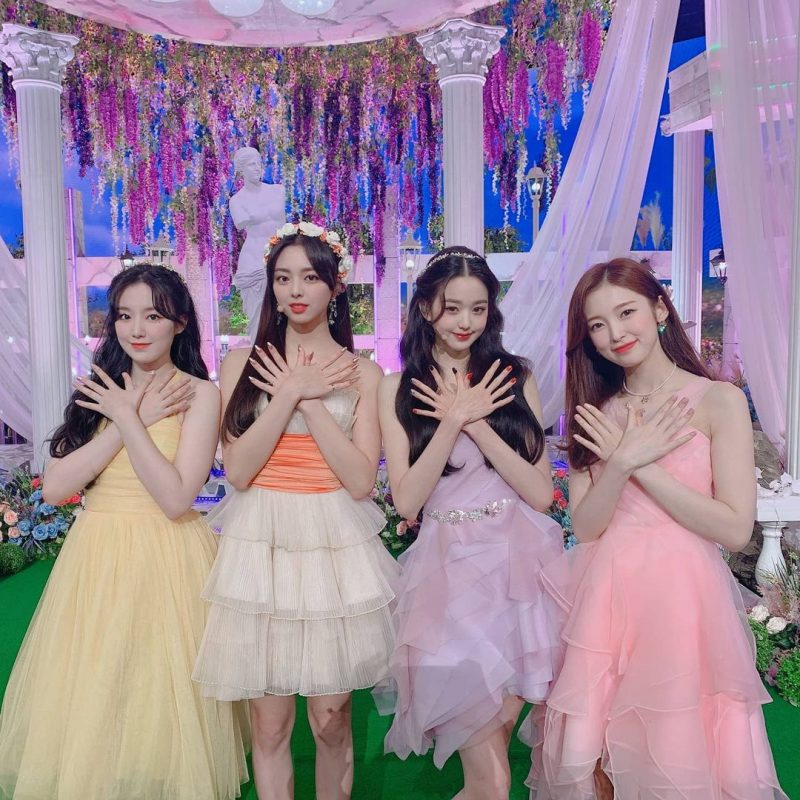 Instagram: N/A
Twitter: N/A
YouTube: N/A
Facebook: N/A
Checkout Latest Comeback Music Video: