Minhyuk (민혁) is a member of a South Korean boy group named BTOB (비투비). Group consists of 6 members: Eunkwang, Minhyuk, Changsub, Hyunsik, Peniel and Sungjae. They debuted on March 21, 2012. The group is under CUBE Entertainment.
His Stage name is Minhyuk (민혁). His birth name is Lee Min Hyuk (이민혁). He was born on November 29, 1990. His age is around 31 years old as of 2021. He is South Korean by Nationality. His Zodiac sign is Sagittarius.
He is the Lead Rapper, Lead Dancer, Vocalist, Visual of the group.
Check out and follow Minhyuk's Social Media accounts:
Sub-Unit: BtoB 4U
Instagram: @hutazone
Twitter: @btob2mh
Early Life:
He was born in Seoul, South Korea.
Not much is known about his early life.
Physical Appearance:
He is young, smart, and handsome. He is popular among youths. His looks make him look younger than his actual age. He has black eyes and black hair.
His height is around 5'8" (173 cm) and his weight is around 61 kg (134 lbs). His Blood group is A.
Family, Religion & Girlfriends:
He has an older brother named Jungmin.
Not much is known about his family and relationships.
Facts:
He has 1.6M+ followers on Instagram.
He

speaks Korean and English.
His specialties are Writing lyrics, composing music, rap making, exercising, acrobatics.
He was the Temporarily Leader after Eunkwang enlisted, until his own enlistment.
He is the "mother" of the group.
He was a cast member of the second season of The Romantic & Idol.
His friends call him the 'Holiday Star'.
When he was in college, Minhyuk participated in a cross-dressing competition twice.
He's a very good athlete.
He is a model.
He won several gold medals at "Idol Athletics".
He actually wanted to become a soccer player.
He can watch horror movies well.
He is a selfie lover.
He can play the piano.
He is good at cooking fried rice and kimchi stew.
He is good at playing guitar.
He really likes manga & anime.
He starred in idol special of 'Love & War 2' (2013).
He played in the movie 'The Swordsman'.
Minhyuk, Changsub, Hyunsik, Sungjae acted in the drama "Monstar" with Highlight's Junhyung.
He releases his first album on January 15, 2019, under the stage name Huta (허타).
He is going to set his silver screen debut in the upcoming historical film "The Swordsman" as Gyeon Sa-bok.
Check out his video:
Korean Dramas:
'A New Leaf' (2014)
'Sweet, Savage Family' (2015)
Web Dramas:
'Nightmare Teacher'
'Unexpected Heroes'
Favorites:
His favorite color is black, white.
Check out and follow the BTOB'S official accounts: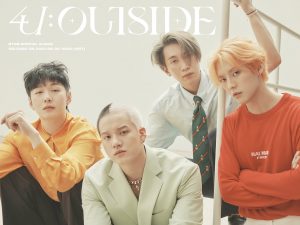 Official Website (Japan): btobofficial.jp
Twitter: @officialbtob
Twitter (Japan): @BTOBOFFICIAL_JP / @BTOB_JPN
Instagram: @cube_official_btob
Facebook: BTOBofficial
Youtube: officialbtob
Fan Cafe: cube-btob
Youtube: officialbtob
V Live: BTOB channel
TikTok: @official_btob
BTOB Fandom Name: Melody
BTOB Official Fan Color: Slow Blue
Checkout Latest Comeback: