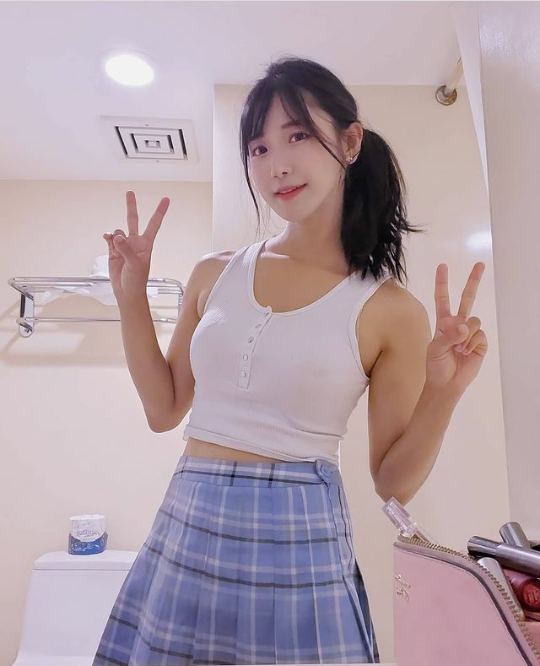 Jinnytty is a member of a South Korean Pop girl group named Tier 4 (티어 4). Group consists of 4 members:  HAchubby, Yunicorn19, Jinnytty, and Yuggie_TV. These four are Twitch Streamers. It is an Independent group. They released their first single titled "Bang Bang" on 23 August 2020.
Her stage name is Jinnytty (진니티). Her Birth Name is Yoo Yoonjin (유윤진). She was born on 28 July 1992. Her age is 30 years old as of 2021. She is Korean By Nationality. Her Zodiac sign is Leo.
She is the Vocalist of the Group.
Check out and follow Jinnytty's Social Media accounts:
Instagram:  yyj0728
Twitter:  Jinnytty1
YouTube:  yoomjji
Facebook: N/A
Merch Website: jinnyttystore
Twitch: jinnytty
Discord: YoomYoom
Early Life:
She was born in Seoul, South Korea. She graduated from Yonsei University. She is now pursuing her study at Underwood International College.
Not much is known about her early life.
Physical Appearance:
She is Young, beautiful, and hot. She has a slender figure. She is hugely popular among youth. She looks like a doll. She has Slim Build. Her looks make her look younger than her actual age. She has black eyes and brown hair. She has beautiful eyes that look very appealing and long silky hair.
Her height is around 5'8" (173 cm) and her weight is around 47 kg (100 lbs).
Family, Religion & Boyfriends:
She has parents and two siblings, an older sister, and a younger brother. Her younger brother is also a streamer named KrustingKevin. Her parents have a dog named Charlie in their family.
Not much is known about her personal relationships.
Facts:
She

has 236k+ followers on Instagram.
She

speaks Korean, English, and Chinese.

She

loves to hang out with friends.
She start streaming in 2017.
She has a dog.
She

is good at playing Guitar.
She

is talented and hardworking
She has a good relationship with her brother.
She has the gaming chair of Secretlab.
She

is good at sports and playing games.
She looks good in traditional "Kimono".
She is very polite and considerate.
Once in July 2020 while surfing she broke her leg.
She likes to paint.
In July 2020, she received a suspension on Twitch for commenting on a character called Abby in the Last of Us 2 because she was not interested in her story during the game.
She has two cats named Kiki and Simba.
She visited Las Vegas, San Francisco, San Antonio, and Austin in the USA. 
She visits NASA station.
Check out and follow the Group_Name's official accounts:
Instagram: N/A
Twitter: N/A
YouTube: N/A
Facebook: N/A