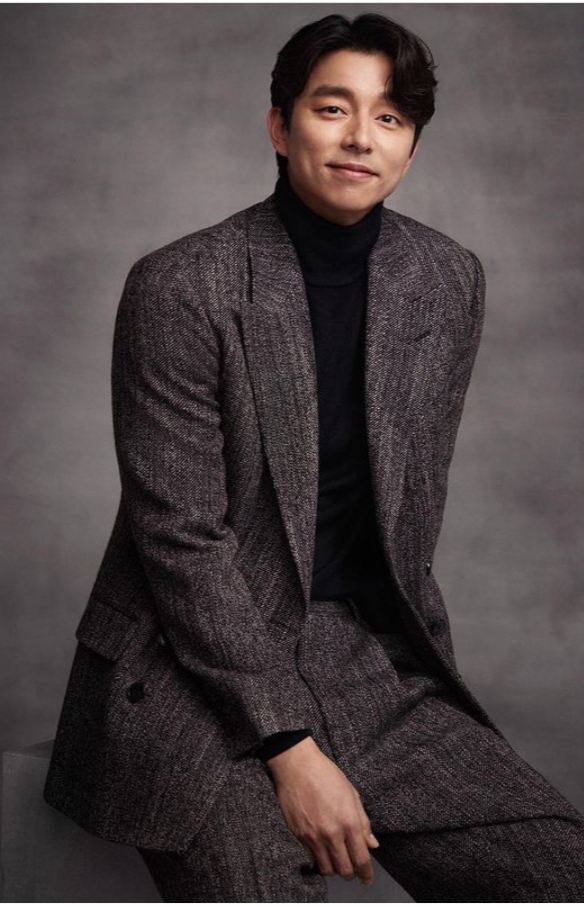 Gong Yoo (공유) is a South Korean Actor. He made his debut with the drama "School 4" in 2001. He is under SOOP Management.
His Stage name is Gong Yoo (공유). His birth name is Gong Ji Chul (공지철). He was born on 10 July 1979. His age is around 43 years old as of 2022. He is Korean By Nationality. His Zodiac sign is Cancer.
Check out and follow Gong Yoo's Social Media accounts:
Instagram: @gongyoo_official
Twitter: N/A
YouTube: N/A
Facebook: N/A
Early Life:
He was born in Busan, South Korea.
He studied at Dongin High School and graduated from Kyung Hee University with a B.A. degree in Theatre and Film.
Not much is known about his early life.
Physical Appearance:
He is young, thoughtful, and handsome. He is popular among youths. His looks make him look younger than his actual age. He has black eyes and black hair.
His height is around 6'0" (185 cm) and his weight is around 74 kg (163 lbs). His Blood group is "A".
Family, Religion & Girlfriends:
Not much is known about his family and relationships.
Facts:
He has 3.5M+ followers on Instagram.
He knows basic English.
He was appointed as a representative of UNICEF in November 2013.
He likes cats.
His father was the manager of the baseball team Lotte Giants in Korea from 1983 to 1985.
He is a descendant of Chinese Philosopher Confucius.
He enlisted for his military service on 14 January 2008.
He completed the service on 8 December 2009.
He likes to watch Soccer.
He is best known for his roles in the dramas like Coffee Prince, Silent Sea, Train to Busan, and Squid Game.
He sang the song for the movie Finding Mr. Destiny titled "Second First Love".
He is foody.
He became the ambassador of the National Tax Service on 7 July 2014.
He rejected the lead role in the drama "Descendent of the Sun".
His Ideal type is "I prefer someone who has a different personality from how one looks."
Movies:
Seo Bok (서복) | 2019 – Ki Hoon
Kim Ji Young: Born 1982 (82년생 김지영) | 2019 – Jung Dae Hyun
The Age of Shadows (밀정) | 2016 – Kim Woo Jin
Train To Busan (부산행) | 2016 – Seok Woo
A Man and a Woman (남과 여) | 2016 – Ki Hong
The Suspect (용의자) | 2013 – Ji Dong Chul
Silenced (도가니) | 2011 – Kang In Ho
Finding Mr. Destiny (김종욱 찾기) | 2010 – Han Gi Hoon
She's on Duty (잠복근무) | 2005 – Kang No Young
S Diary (에스 다이어리) | 2004 – Yoo In
Superstar Mr. Gam | 2004 – Park Chul Soo
Spy Girl (그녀를 모르면 간첩) | 2004 – Choi Ko Bong
My Tutor Friend (동갑내기 과외하기) | 2003 – Lee Jong Soo
Dramas:
The Silent Sea (고요의 바다) | Netflix / 2021 – Han Yoon Jae
Goblin (쓸쓸하고 찬란하神 – 도깨비) | tvN / 2016-2017 – Kim Shin / Goblin
Dating Agency: Cyrano (연애조작단; 시라노) | tvN / 2013 – Magician (cameo ep. 9)
Big (빅) | KBS2 / 2012 – Seo Yoon-jae / Kang Kyung Joon
Coffee Prince (커피프린스 1호점) | MBC / 2007 – Choi Han Kyul
One Fine Day (

어느 멋진 날) 

| MBC / 2006 – Seo Gun
Biscuit Teacher and Star Candy (건빵선생과 별사탕) | SBS / 2005 – Park Tae In
Screen (화면) | SBS / 2003 – Kim Joon Pyo
Hard Love (딱딱한 사랑) | KBS / 2002 – Seo Kyung Chul
School 4 (학교4) | KBS / 2001-2002 – Hwang Tae Young (cameo eps. 29-48)
Awards and Achievements:
2017 Baeksang Arts Awards | Best TV Actor ("Guardian: The Lonely and Great God")
2011 Blue Dragon Film Awards | Popular Star Award ("Silenced")
2007 MBC Drama Awards | Excellence Award, Actor ("Coffee Prince")
2006 MBC Drama Awards | Special Award, Actor in a Miniseries ("One Fine Day")
2003 SBS Drama Awards | New Star Award ("Screen")