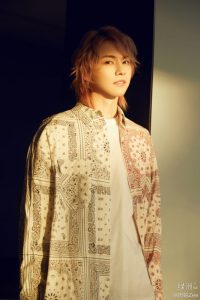 Zhou Rui is a Chinese solo singer, actor and also he is the CEO of Zhou Rui Studio. He was a contestant in the survival show Idol Producer. He debuted as a solo singer with the EP Parallel in 2014 and debuted as an actor in 2016 in the comedy film The Eight Immortal in School 2.
His birth name is Zhou Rui (周锐). He was born on September 8, 1992. His age is 29 years old as of 2021. He is South Korean By Nationality. His Astrological Sign is Virgo. His Chinese Zodiac Sign is Monkey.
Check out and follow Zhou Rui's Social Media accounts:
Instagram: N/A
Twitter: N/A
Personal Weibo: 周锐Zee
Zhou Rui Studio Weibo: 周锐工作室
YouTube: N/A
Facebook: N/A
Early Life:
He was born in Changde, Hunan province.
He was a trainee for 9 months.
He is graduated from Changsha University of Science and Technology.
Not much is known about his early life.
Physical Appearance:
He is young, smart, and handsome. He is popular among youths. His looks make him look younger than his actual age. He has black eyes and black hair.
His height is around 5'7" (176 cm) and his weight is around 59 kg (130 lbs). His Blood group is "AB".
Family, Religion & Girlfriends:
In his family, parents and her older sister.
Not much is known about his family and relationships.
Facts:
His ethnicity is Han.
His Fandom colour is Light Red.
His former Gramarie Entertainment Colleagues J.zen and Zhou Yanchen are his friends.
His nicknames are Zhou Meirui, Fairy Zhou and Fairy Rui.
His favourite genre of music is R&B.
He was a contestant in the survival show "Idol Producer" the program as an individual trainee.
His Fandom Name is Zee.
In the first episode, he ranked himself as D.
In the second episode, he was 49th rank.
In his first judge evaluation, he ranked himself as B.
He loves his long hair and he also is a part of her image.
In the third episode, he was 55th rank.
In 2010, he became a vocalist in the university during his study and he was in the Rock band smile Dream through the local music club.
In 2012, after graduation, he formed a group Noisy Gene and he was a vocalist and producer in the group.
In 2013, he formed another group No Sound.
In 2016, he was a contestant in the popular reality show "iQIYI Birth" of a Star and he became second place.
In 2016, he debuted as an actor in the comedy film "The Eight Immortal in School 2".
His hobbies are playing guitar and drums, rock climbing, reading, skating and enjoying life.
In the first round, he performed PPAP Team "A Your Apple" and he was the Main Vocalist.
In episode 4, he ranked 46th with 7 votes from the audience and 1000+ round winner votes.
He likes sleeping and takes 7-8 hours in a day.
He learned music composing, playing instruments and theory of music during study in university and became a part of band.
His motto is "One should sleep until waking up by themselves or hair will be a mess."
In the second judge evaluation, he was given a B rank.
He hates cooking food.
In Episode 5, he was 31st rank.
In the vocal section, he performed "Less Than Half" with the "Team Frozen" by You and his position as leader and centre in the second round.
In episode 7, he placed first in his team and 3rd in the section and 7th in overall audience ranking with votes.
He performed "I Will Always Remember" in the third round with Team 2.
In episode 9, he placed 23rd with 12 votes from the audience.
In episode 10, he was eliminated in the third round with a final rank of 25.
In the mentor collab stage he performed Zero (Team Mc Jin).
Discography
Studio albums:
Singles:
Enough (足够) (2019)
Playing With Fire (2019)
Who Knows (2019)
My Life (2019)
Some Random Things (2019)
Small (渺小的) 2019)
Mind (介意) (2019)
Birth (本命) (2020)
Filmography
Reality shows:
King of Pop (流行之王) (iQiYi, 2014) contestant
Check the Music Video on Weibo: