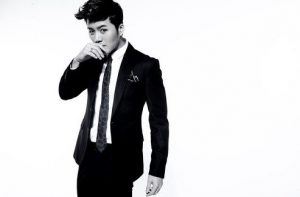 Eru is a South Korean Singer and Actor. He debuted with the album "Begin to Breathe" in 2005. He is under Eru Entertainment.
His Stage name is Eru (이루). His birth name is Jo Seong-Hyun (조성현). He was born on July 5, 1983. His age is 38 years old as of 2021. He is South Korean By Nationality. His Zodiac sign is Cancer.
Check out and follow Eru's Social Media accounts:
Instagram: eru_official_
Twitter: N/A
YouTube: N/A
Facebook: N/A
Early Life:
He was born in New York, USA.
Check out his childhood picture.
Not much is known about his early life.
Physical Appearance:
He is young, smart, and handsome. He is popular among youths. His looks make him look younger than his actual age. He has black eyes and black hair.
His height is around 6'0" (184 cm) and his weight is around 72 kg (159 lbs). His Blood group is "AB".
Family, Religion & Girlfriends:
His family consists of father named TaeJin-ah (Trot Singer), mother named Lee Okhyeong, and an older brother named Jo Yumyeong.
Facts:
He has 21K+ followers on Instagram.
He took a break from Berklee and after he entered Kpop.
His English name is Andrew Cho.

He

speaks Korean and English.
He loves to play golf.
He was born in new york and when he was 7yrs old his family moved to South Korea.

He

loves to hang out with friends.
He is called the Indonesian Prince because he is very popular in Indonesia.
He likes taking mirror selfies.
His stage name is the mixture of his mother last name and the last syllable of his English name and the name is Eru.
He wanted to become a producer and also a composer. He started as a composer and he realized that he tries to sing themself and also that the person who composes songs can better understand it and at last he becomes the singer.
He was a trainee for two years before his debut as a solo singer.
He has done many professional photoshoots.
He is a Protestant.
In 2008 he was in the Mandatory Military Service after obtaining Korean Citizenship for two years.
On May 1, 2008, he enlisted after 4 weeks of training and appoint as a public service duty.
On May 27, 2010, he was discharged from the services.
In September 2010, he was in big trouble his ex-girlfriend Choi Heejin is a lyricist claimed that she is pregnant and her boyfriend Eru forced her to abort the baby and offered her US$2000 and she refused it. But after the investigations, Eru is not guilty and the Choi Heejin was arrested for Online slander and blackmail her boyfriend and she was found guilty.

He

is the mood maker of the group.

He

has a bright personality and smiles a lot.
In 2013, he won the Korean Popular Culture and Arts Awards.
Dramas:
You Are Too Much (2017)
Four Men  (2018)
Angel's Last Mission: Love  (2019)
Kingmaker: The Change of Destiny (2020)
Man in a Veil (2020-21)
A Good Supper  (2021)
At a Distance, Spring is Green  (2021)
Check out the Music Video: