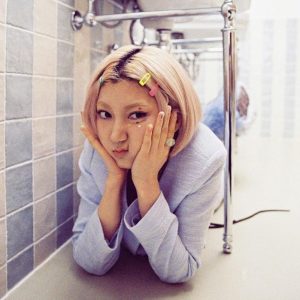 UNE / 으네 is a Korean singer under the DEJAVU Group. She debuted in 2017 with And They Lived Happily Ever After.
Her stage name is UNE / 으네. Her Birth Name is Tak Eunhye / 탁은혜. Her date of birth is 'not known'. Her age is not known. She is Korean By Nationality. Her Zodiac sign is 'Not known'.
Check out and follow UNE's Social Media accounts:
Instagram: uneunet
Twitter: N/A
YouTube: UNE
Facebook: N/A
SoundCloud: unewav
Early Life:
She was born in Seoul, South Korea.
She has studied at an international school in Japan.
Not much is known about her early life.
Physical Appearance:
She is Young, beautiful, and hot. She has a slender figure. She is hugely popular among youth. She looks like a doll. She has Slim Build. Her looks make her look younger than her actual age. She has black eyes and Light brown hair. She has beautiful eyes that look very appealing and short silky hair.
Her height is around 5'9" (175 cm) and her weight is around 48 kg (105 lbs). Her blood group is 'not known'.
Family, Religion & Boyfriends:
Not much is known about her family and her personal relationship.
Facts:
She

has 6402+ followers on Instagram.
Joined DEJAVU Group in August 2021.
UNE has jokingly stated that her MBTI is CUTE.

She

loves to hang out with friends.
She

is makeup enthusiastic.
She's the youngest artist on the label.
She has a Pomeranian puppy.
Her puppy has its own IG account @kongdakkongdakk.
She

has a bright personality and smiles a lot.

She

enjoys talking to people.
She

loves being sarcastic.

She

wants to travel with her members.

She

looks pretty when dancing.

She

likes travelling and playing games.
She

has been featured in various Top Magazines.

She

enjoys watching movies and taking pictures.
She

is optimistic, cheerful, and kind.

She

has a youtube channel where he uploads other content.
Checkout Latest Comeback Music Video: