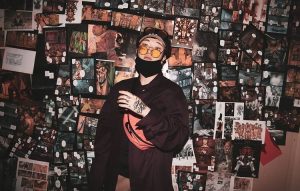 Maguro (마구로) is a South Korean singer and rapper. He debuted in 2020 with the "민들레" feat. Kenessi.
His Stage name is Maguro (마구로). His Birth Name is Son Jinhyeon  (진현 손). He was born on October 17, 1995. His age is around 26 years old as of 2021. He is South Korean By Nationality. His Zodiac sign is Libra.
Check out and follow Maguro's Social Media accounts:
Instagram : Maguro_s95 / s95_Maguro
Soundcloud: Maguro🎣
Youtube: 손마구로
Twitter: Maguro_s95
Early Life:
He was born in South Korea.
Not much known about his early life.
Physical Appearance:
He is young, smart, and handsome. He is popular among youths. His looks make him look younger than his actual age. He has black eyes and black hair.
His height is around 5'9" (180 cm) and his weight is around 57 kg (126 lbs). His Blood group is not known.
Family, Religion & Girlfriends:
Not much known about his family and relationships.
Facts:
He has 350+ followers on Instagram.
He loves R&B/Soul, Indie, Rap/Hip-Hop, Pop, and Ballad music genres.
He likes taking mirror selfies.
He likes Japanese Anime.
He doesn't have dreams and goals, if he likes something music he will work hard.
He loves singing and records his music.
He loves spicy food but he doesn't eat spicy food well because of his health.
He likes dark colors and deep colors.
He collaborates with Rose De Penny (Huh!)  with the title "I Know" on Soundcloud.
He an Independent Artist.
He started being active on his Soundcloud and released a song "로미오와 줄리엣처럼" with hrhr#06 in 2019.
He chose "Maguro" as his stage name because the taemong (dream) when his mother gave birth was tuna.
He covers many songs and uploads them on his YouTube.
Maguro's Favorite:
His favorite food is Tuna.
His favorite artists are Justin Bieber, Post Malone, Lana del Rey.
His favorite foods are meat and vegetables.
Check out the Latest Album: