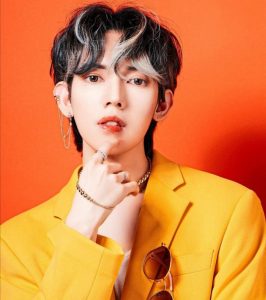 LØUDI (로우디) is an Indonesian soloist. He is under AiMERS Entertainment. He plans to debut sometime in the near future. He is a former member of 14U and JN Entertainment Boy Group.
His Stage name is LØUDI. His birth name is Edward Wen. His Korean name is Won Jihoon. He was born on April 13, 1996. His age is 25 years old as of 2021. He is Indonesian By Nationality. His Zodiac sign is Aries.
Check out and follow Roman Kim's Social Media accounts:
Instagram: @seoulology_00
Twitter: @LOUDI_Official
YouTube: LOUDI official
Facebook: N/A
VLIVE: LOUDI (로우디)
Duam Café: LOUDI
TikTok: seoulology_00
Early Life:
He was born in Yogyakarta, Indonesia.
Not much is known about his early life.
Physical Appearance:
He is young, smart, and handsome. He is popular among youths. His looks make him look younger than his actual age. He has black eyes and black hair.
His height is around 5'9" (176 cm) and his weight is around 56 kg (123 lbs). His Blood group is "O".
Family, Religion & Girlfriends:
Not much is known about his family and relationships.
Facts:
He has 100K+ followers on Instagram.
He can speak Indonesian, Korean, Japanese, and English.
He is of mixed Korean and Chinese ethnicity. His grandmother is from South Korea. His parents are Indonesian citizens.
He moved to South Korea to study.
He is the first idol of Indonesian origin to debut and spent his younger years living in Indonesia.
He came up with his stage name himself.
He explained how he had chosen his stage name (at the time), saying it's French, it means colour and it means a lot to him. His fans gave him the nickname 'Blue Rose' and this is where he got his name. (Sunny Dahye's YouTube: Barang Favorit YouTuber Vs. KPOP Idol)
He was previously a member of 14U under BG Entertainment until their disbandment in May of 2019.
He is a former member of JN Entertainment's pre-debut boy group under the stage name Bleu. It was confirmed in August of 2021 that the members had left the company.
He has an art Instagram, @seoulo_ography, where he often posts photos and drawings. His idol drawings include JAMIE, THE BOYZ' Kevin, and SHINee's Onew.
He is good at girl group dances.
He is very supportive of many idols. He will often post them on his Instagram Stories, and encourage fans to stream their songs.
He was featured in YBC (Young K Broadcast) Episode 13, where he taught Young K and Dowoon Indonesian.
He was a broadcasting DJ for KBS World Radio's Indonesian station.
He was featured, along with Secret Number'sDita, on KBS World Indonesian's 300k subscriber special. (Acara Spesial Perayaan 300k Subscribers Bagian 2/3)
He frequently features in Sunny Dahye's YouTube videos.