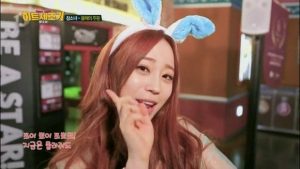 Kari (가리) was a member of a temporary Korean project girl group named Chamsonyeo (참소녀). The group consists of 4 female members: Bagha, Kkyepi, Yeot, and Kari. They debuted on February 20, 2015, with the single "Magic Words". The group is created during the second season of the variety show Hit Maker by Defconn and Jeong Hyeong Don.
Her stage name is Kari (가리). She was born on August 30, 1994. Her age is 27 years old as of 2021. She is Korean by Nationality. Her Zodiac sign is Virgo. Her Chinese Zodiac is N/A.
She is the Main Dancer, Vocalist, Maknae of the group.
Check out and follow Kari's Social Media accounts:
Instagram: N/A
Youtube: N/A
Twitter: N/A
Early Life:
She was born in South Korea.
Physical Appearance:
She is young, beautiful, and hot. She has a slender figure. She is hugely popular among youth. She looks like a doll. She has a Slim Build. Her looks make her look younger than her actual age. She has black eyes and black hair. She has beautiful eyes that look very appealing and stylish silky hairs.
Her height is around 161 cm (5'4″) and her weight is around 42 kg ( 99 lbs). Her blood group is not known.
Family, Religion & Boyfriends:
Not much known about her family and her personal Relationship.
Facts:
She speaks Korean.
She Starred as Hur Youngji from KARA.
The leader was chosen through rock, paper, or scissors between Kari and Yeot as they both received two votes from Big Byung. Finally, the winner was Yeot becoming the leader of the group.
She knows a lot about girl group dances.
She is a good vocalist.
She is a make-up enthusiast.
She is a fashionista.
She is good at dancing.
She wants to travel with her members.
She looks pretty when dancing.
Check out Chamsonyeo's group Social Media Accounts below: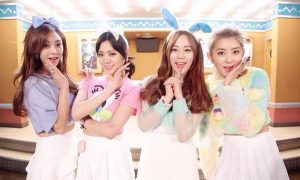 Twitter: N/A
Facebook: N/A
Instagram: N/A
YouTube: N/A
Vlive: N/A
Weibo: N/A
Latest Korean Comeback: