JURI is a member of a Japanese girl group named Haze. The Japanese band was formed on October 9, 3032 by Kashii Katy. The group consists of 4 members: KATY, HANA, JURI and SUZUKA. Their live debut was held on December 11, 2021. They are signed to the agency Ekoms.
Her stage name is JURI. Her age is around 21 years old as of 2021. She is Japanese By Nationality. Her Zodiac sign is not known.
Her position in the group is not known.
Check out and follow JURI's Social Media accounts:
Instagram: __j__7__11
Twitter: @__j__7__11
YouTube: N/A
Facebook: N/A
Early Life:
She was born in Aomori, Japan.
Not much is known about her early life.
Physical Appearance:
She is Young, beautiful, and hot. She has a slender figure. She is hugely popular among youth. She looks like a doll. She has Slim Build. Her looks make her look younger than her actual age. She has black eyes and brown hair. She has beautiful eyes that look very appealing and long silky hair.
Her height is around 5'8" (173 cm) and her weight is around 45 kg (99 lbs). Her blood group is not known.
Family, Religion & Boyfriends:
Not much is known about her family and her personal relationship.
Facts:
She

has 9K+ followers on Instagram.
She

speaks Japanese

She

is humble and cute.
She is good to play the drum.
She loves to hang out with friends.
She

is good at sports and playing games.
She met fellow member Katy at the apparel store and she was working it.

She

is optimistic, cheerful, and kind.
She is the mood maker of the group.
She was 18yrs old and she moved from Aomori to Tokyo.
She is very polite and considerate.
Check out and follow the HAZE's official accounts: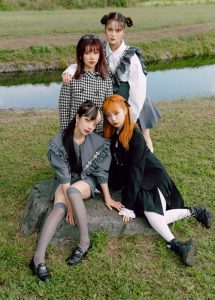 Instagram: N/A
Twitter: N/A
YouTube: N/A
Facebook: N/A