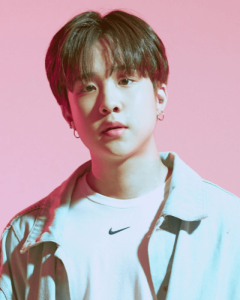 JAEHA is a South Korean independent rapper and part of Livrside crew.
His Stage name is JAEHA (재하). His birth name is Kim Jaeha (김재하). He was born on December 14, 2003. His age is 18 years old as of 2021. He is South Korean By Nationality. His Zodiac sign is Sagittarius.
Check out and follow JAEHA's Social Media accounts:
Instagram: @jaeha_8323
Twitter: N/A
SoundCloud: jaeha8323
YouTube: N/A
Facebook: N/A
Early Life:
He was born in Seoul, South Korea.
He attends Hanlim Multi Arts School.
Not much is known about his early life.
Physical Appearance:
He is young, smart, and handsome. He is popular among youths. His looks make him look younger than his actual age. He has black eyes and black hair.
His height is around 5'7" (170 cm) and his weight is around 60 kg (133 lbs). His Blood group is not known.
Family, Religion & Girlfriends:
Not much is known about his family and relationships.
Facts:
He has 62.2K+ followers on Instagram.
His mentors his Team Daytona.
He worked with many rappers like Layone, BIGONE,Futuristic Swaver, Skinny Brown and Trade L and who belongs to Livrside.

He

speaks Korean and English.
He was a contestant on High School Rapper 4 and he made it all the way to Semi Finals.
He says Futuristic Swaver that he like's father to him and he worked multiple times with him.
He doesn't usually come up with a concept or story of an album in advance, it makes him feel like he's working on the album against his will if it's not something he wants to write about.
On 2016, Def Dance Skool & Def Music Academy showcased their talents and he along with Kim Jongseob did a rap performance titled "Cool Kids".

He

loves to hang out with friends.
He is the only one 10 rappers that collaborated with rapper Basick for his youtube channel and he releasing about 4 Cyphers titled "10 Opps Cypher".
He says there's a type of anger students feel yet they aren't free to express it,in return he wishes his songs can help them out.
He doesnot like mean comments and he hurts easily so he avoid it.
He auditioned for SMTM9 and he did not pass the 1st round.
He contacted Futuristic Swaver first through an instagram DM and sent him his song "안았어야해", which he liked and featured in.
He look rap lessons from 2015-17 and he attend Def Music Academy.
On April 13, 2020, he released his first EP " Life Like 18″.
On July 7, 2021, he announced as the new artist under Daytona Entertainment.
Checkout Latest Comeback: