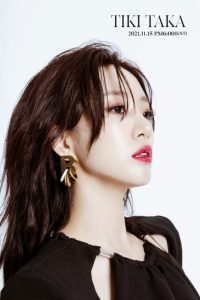 Eunjung (은정) is a South Korean singer, actress and model signed under Management KOO. She made her solo debut on 2015 with the mini album "I'm Good".
Her stage name is Eunjung (은정) / Elsie (엘시). Her Birth Name is Hahm Eun Jung (함은정). She was born on December 12, 1988. Her age is 34 years old as of 2022. She is South Korean By Nationality. Her Zodiac sign is Sagittarius.
Check out and follow Eunjung's Social Media accounts:
Instagram: @eunjung.hahm
Twitter: @taraeunjung1212
YouTube: 함은정 [Eunjung Official]
Facebook: N/A
TikTok: @eunjung1212
Early Life:
She was born in Seoul, South Korea.
She completed her education at Dongguk Daehakgyo University.
Not much is known about her early life.
Physical Appearance:
She is Young, beautiful, and hot. She has a slender figure. She is hugely popular among youth. She looks like a doll. She has Slim Build. Her looks make her look younger than her actual age. She has black eyes and blackhair. She has beautiful eyes that look very appealing and long silky hair.
Her height is around 5'6" (168 cm) and her weight is around 48 kg (101 lbs). Her blood group is "O".
Family, Religion & Boyfriends:
She is an only child.
Not much is known about her family and her personal relationship.
Facts:
She

has 899K+ followers on Instagram.
She

speaks Korean and English.

She

loves to hang out with friends.
She

is makeup enthusiastic.
She

has a pet lover.
She has a dog called Monggeul.

She

loves to socialize and befriend people.
she was a model and an actress.
She

has a bright personality and smiles a lot.
She is Christian.

She

looks pretty when dancing.
In 1995 she won the "Little Miss Korea" Pageant.
She won three Taekwondo competitions and she also owns a black belt.

She

is talented and hardworking.

She

enjoys acting.
Movies:-
A-rong's Big Expedition | Song-i (1999)
Dodge Go! Go! | Min Sangmi (2001)
Madeleine | Sunghae (2002)
The Beast And The Beauty | Haemi (2005)
Ice Bar | Misook (2006)
World Of Silence | Minhee (2006)
Dating On Earth | Yoon Yisoo (2007)
Death Bell | Kim Jiwon (2008)
White: The Melody Of The Curse | Choi Eunjoo (2011)
Micro Love | Kim Minji (2017)
Missing 2 | Sunyoung (2017)
I Will Song | Moonkyul (2021)

She

has a youtube channel where he uploads other content.
Checkout Latest Comeback Music Video: