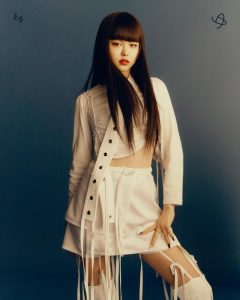 E:U is a member of the K-pop girl group EVERGLOW (에버글로우). The group consists of six members: E:U, Sihyeon, Mia, Onda, Aisha, and Yiren. They debuted on March 18, 2019. They formed under Yuehua Entertainment.
Her stage name is E:U (이유). Her Birth Name is Park Jiwon (박지원). She was born on May 19th, 1998. Her age is around 23 years old as of 2021. She is Korean By Nationality. Her Zodiac sign is Taurus. Her Chinese Zodiac Sign is Tiger.
She is the Leader, Main Rapper, and  Main Dancer of the group.
Check out and follow E:U's Official Accounts:
Instagram: N/A
Youtube: N/A
Early Life:
She was born in South Korea.
Not much known about his early life.
Physical Appearance:
She is very young, beautiful, hot, talented, and a hard worker girl. She has a very good figure. She is hugely popular among youth. She looks like a barbie doll. She has a Slim Build. Her looks make her younger than her actual age. She has black eyes and grey long hair. She has beautiful eyes that look very appealing and stylish straight silky hairs. She has several single tattoos over her arms.
Her height is around 5'3" (161 cm) and her weight is around 43 kg (94 lbs). Her Blood group is "O".
Family, Religion & Boyfriends:
She has an older sister 2 years older than her.
Not much known about his family and relationships.
Facts:
Her nicknames are Protractor and Sweet Unnie.
Her representative color is Purple.
Her role model is Lee Hyori.
She used to be a cheerleader.
She was the 5th member to be revealed.
She dislikes peppers and raisins.
She has done a professional photoshoot.
She like Americanos, black noodles, hamburgers, and french fries.
She likes taking the subway.
She has a dog named Kongsam.
She debuted as a member of Everglow on March 18, 2019.
She is a fun-loving person.
Her unique points are her small hands, her passion, and her husky voice.
She is the oldest member of Everglow.
She likes watching mukbang videos, Running Man, Law of The Jungle, and American TV Shows '13 Reasons Why.
She was a model for the brand STARE Shoes.
She posted some vlogs on YouTube Channel.
She looks like a mix of CLC's Elkie and Sorn.
Her favorite fruits are mangos and melons.
She and Sihyeon often joke about dating each other.
She has a Peppa Pig stuffed toy.
Latest Album:
Check out and follow EVERGLOW Social Media accounts: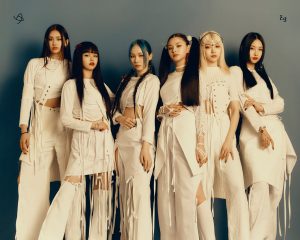 Fancafe: EVERGLOW
Twitter: @everglow_twt / @EVERGLOW_STAFF
V Live: EVERGLOW
Instagram: @official_everglow / @everglow_everday
Youtube: EVERGLOW
Weibo: YH_EVERGLOW_OFFICIAL
TikTok: @everglowofficial