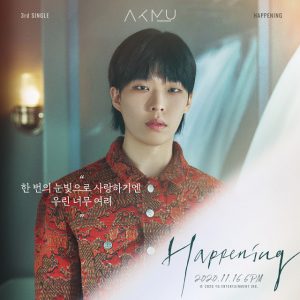 Chanhyuk is a member of a South Korean Sibling Duos group AkdongMusician. Akdong Musician is also known as AKMU. The group consists of 2 members both are brother and sister: Chanhyuk and Suhyun. They debuted on April 7, 2014, with the album PLAY. They formed under YG Entertainment.
His Stage name is Chanhyuk (찬혁). His birth name is Lee Chan Hyuk (이찬혁). He was born on September 12th, 1996. His age is 25 years old as of 2021. He is South Korean By Nationality. His Zodiac sign is Virgo.
He is the Main Rapper and Lead Vocalist of the group.
Check out and follow Chanhyuk's Social Media accounts:
Instagram: @akmuchanhk
Twitter: N/A
YouTube: N/A
Facebook: N/A
Early Life:
He was born in Seoul, South Korea.
Not much is known about his early life.
Physical Appearance:
He is young, smart, and handsome. He is popular among youths. His looks make him look younger than his actual age. He has black eyes and black hair.
His height is around 5'6" (168 cm) and his weight is around 58 kg (128 lbs). His Blood group is not known.
Family, Religion & Girlfriends:
He has a younger sister named Suhyun and she is also a member of AKMU.
Not much is known about his family and relationships.
Facts:
He has 1.3m+ followers on Instagram.
He composed more than 11 songs for the AKMU debut album.
Their debut album "Play" has more than 6 Million Downloads.
He wins the Kpop star season 2 with her sister and after 12 months they debuted with the album Play and three lead singles on April 7. He is very talented with all the tracks were written and produced by him.

He

speaks Korean and English.
He has a dog.
He helped other artists to write the lyrics and he also helps with Bang Yedam's "Wayo".
In Mongolia, he and her sister both were home-schooled by their mother because the family struggled financially.
The song "all-kill" after release ranks number 1 and 9 on the real-time music chart and is also ranked the second week of the release. It is not a music video so people can feel the song.
He featured in Younha's song "Think About You".
He likes taking mirror selfies.
On April 6, the duo debuted on the stage of Kpop star season 3.
The first single "200%" MV was released on 7 April. and this music video topped all South Korean charts.
He appeared as a contestant on the show "King of The Masked Singer" in 2017.
He and her sister win the show Kpop star season 2.
On 14 April, the music video "Give Love" was released and it became the third high-charting song after "200%" and "Melted".
He performed many stage performances.
On 16 June, they participated in the YG family project of Taeyang's " Eyes, Nose, Lips".
On 26 April, the art film "Welcome Home " was released as a comeback.
On 13 September, he would enlist for his mandatory military enlistment confirmed by YG Entertainment.
The first AKMU live concert was on 21 November at Blue Square Samsung Card Hall in Seoul.
In October Akdong release the digital single "Time and Fallen Leaves" written and composed by him it was planned as a lead single of Play but the October release suits the title of the album autumn season.
In May 2016, their first EP titled Spring new album series named Puberty and the album promoted with the release of two lead singles "ReBye" and "How People Move".
On 15 March 2017, Akdong Musician released a digital single in collaboration with Yang Hee-eun called "The Tree".
On 20 July they released their first single album titled Summer Episode with lead singles "Dinosaur" and "My Darling" they doing experiments with their tracks and the dinosaur is not fit well with the fancy stage and live program and My Darling is an upbeat acoustic track.
Due to the huge gain of success the duo travelled and concerts in seven cities nationwide.
The Akdong group is very talented there all debuted songs within the top of the Gaon Chart and "Rye-Bye" becoming a chart-topper.
Their first EP Spring becomes the Billboard fourth-best Kpop album of the year and the young duo is growing. They promote Spring in the Seoul Forest park in front of 10,000 people. They also toured Asia showcases at Taipei, Kuala, Lumpur, Singapore, and Shanghai.
On 3 January, they released their second studio album Winter, the two-part album series Puberty with lead singles "Last Goodbye" and "Reality". The song "Last Goodbye" become the second best selling in the half of 2017 and earning song of the year for the month of January at the Gaon Chart Awards and in digital bonsang at Golden Disc.
On 29 May 2019, he successfully completed his mandatory military service with the Republic of Korea Marine Corps. He writes and composes songs for corps.
The lead single went on to claim the number one spot on the Gaon Digital, Download, and Streaming chart for the month of October
On June 8, the duo's first appearance was on the JTBC variety show Knowing Bros with JeonSo-mi.
He is very protective towards his sister while she dating someone.
On 25 September, the sibling duo released their third studio album Sailing with the lead single "How Can I Love the Heartbreak, You're the One I Love". He wrote most of the songs on Sailing inside a ship over 2 years.
His hobby is writing and composing music that has a light-hearted and lukewarm feeling.
His song "Marine Triumph" was chosen to represent the Marine Corps.
On 26 January, they signed YG Entertainment for 5years.
On 8 November 2020, it was announced that they would make their comeback on 16 November 2020 with the single "Happening".
Discography
Studio albums:
Play (2014)
Winter (2017)
Sailing (2019)
Mini albums:
Collaboration albums:
Digital singles:
Time and Fallen Leaves (2014)
Summer Episode (2017)
Happening (2020)
Promotional singles:
KTBS (2013)
KTBS Extreme Cool Summer Edition (2013)
OSTs:
All About My Romance OST Part.3 (2013)
Moon Lovers: Scarlet Heart Ryeo OST Part.12 (2016)
Music Trailer:
Check out and follow the Akdong Musician's official accounts: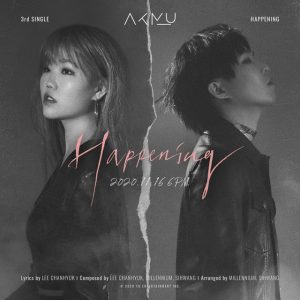 Instagram: N/A
Youtube: N/A
Facebook: N/A