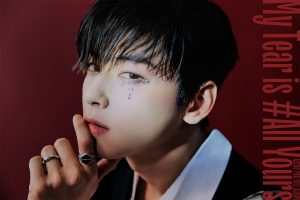 Cha Eunwoo (차은우) is a member of South Korean boy group named ASTRO (아스트로). The group consists of 6 male members: JinJin, MJ, Cha Eunwoo, Moonbin, Rocky, and Sanha. They debuted on February 23rd, 2016. The group is under Fantagio Entertainment.
His stage name is Cha Eunwoo (차은우). His birth name is Lee Dong Min (이동민). He was born on March 30, 1997. His age is 24 years old as of 2021. He is Korean by Nationality. His Zodiac sign is Aries.
He is the Vocalist, Visual, Face of the group.
Check out and follow Cha Eunwoo's Social Media accounts :
Instagram: @eunwo.o_c
TikTok: @at_chaeunwoo
Weibo: ASTRO_车银优
Early Life :
He was born in Sabon District, Gunpo, Gyeonggi Province, South Korea.
He studied in an elementary school in the Philippines.
When he was in grade 4, he stayed for 6 months in the Philippines to study English in an elementary school in Tagaytay.
He attended Suri Middle School, Suri High School, and Hanlim Multi Arts High School (2013 to 2016).
Since 2016, he is attending Sungkyunkwan University(Acting Major).
Physical Appearance :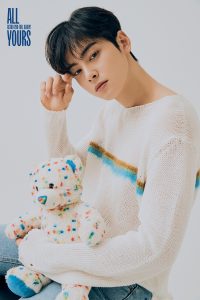 He is young, smart, and handsome. He is popular among youths. His looks make him look younger than his actual age. He has black eyes and brown hair. 
His height is 183 cm (6'0″) cm and his weight is 73 kg (161 lbs). His blood group is B.
Family, Religion & Girlfriends:
He has a younger brother who is studying in China.
Not much known about her family and her personal Relationship.
Facts:
He has 19m+ followers on his Instagram.
His specialties are Swimming, Guitar, Violin, Piano, DJ-ing.
His nicknames are "Morning Alarm"  & "White Tee Guy".
He is also called "Face Genius".
He used to click selfies.
His hobbies are watching movies, listening to music, and playing the piano.
His role models are actor & singer Seo Kang Jun and EXO.
He is close to Seventeen's Mingyu.
He was featured in Urban Zakapa's "You're The Reason" MV.
He is a regular cast for "Master in the House".
He was a regular cast for the SBS reality show "Handsome Tigers".
In 2014 he appeared in KBS 9 AM/PM News "Hallyu Star & Gangnam Style: Trainee Interview".
In 2014 he appeared in a movie: 두근두근 내 인생 "My Brilliant Life".
In 2013 he participated in "Mr.Pizza's iTeen Audition Promotional Model".
2014 to 2015 he was the face of the Korean cosmetics company "Shara Shara".
He can play the Piano, Guitar, Flute & Violin
He likes to watch midnight movies alone, play with his tablet and watch performance videos on Youtube.
He participated in writing the lyrics for their summer single "No, I Don't".
Cha Eunwoo's Favorites :
His favorite soccer team is Real Madrid.
His favorite color is Blue.
Cha Eunwoo Acted in Following Web Dramas:
To Be Continued (투 비 컨티뉴드) – 2015
My Romantic Some Recipe (마이로맨 썸 레시피) – 2016
Hit the Top (최고의 한방) – 2017
Sweet Revenge (복수노트) – 2017
My ID is Gangnam Beauty (내 아이디는 강남미인) – 2018
Top Management (탑매니지먼트) – 2018
Rookie Historian Goo Hae Ryung (신입사관 구해령) – 2019
Soul Plate (소울플레이트) – 2019
True Beauty (여신강림) – 2020
Cha Eunwoo in Movies:
My Palpitating Life (두근두근 내 인생) – 2014
The Great Battle (안시성) – 2018
Cha Eunwoo Awards:
2017
9th MTN Broadcast Advertising Festival | CF Male Star Award (N/A)

2018
11th Korea Drama Awards | Best New Actor (My ID is Gangnam Beauty)

11th Korea Drama Awards | Hallyu Star Award (My ID is Gangnam Beauty)

3rd Indonesian Television Awards | Special Award – Person of the Year (N/A)

3rd Asia Artist Awards | Rising Star Award (My ID is Gangnam Beauty)

Yahoo Asia Buzz Awards | Most Searched Rookie Actor (My ID is Gangnam Beauty)

Korea First Brand Awards | Male Idol-Actor Award (My ID is Gangnam Beauty)
Korea First Brand Awards | Male Commercial Model Award (N/A)

2019 
14th Annual Soompi Awards | Breakout Actor (My ID is Gangnam Beauty)

1st iQiyi Entertainment Awards | Most Charming Actor (My ID is Gangnam Beauty)

MBC Drama Awards | Excellence Award for an Actor in a Wednesday-Thursday Drama (Rookie Historian Goo Hae Ryung)

MBC Drama Awards | Best Couple Award (with Shin Se-kyung) (Rookie Historian Goo Hae Ryung)

2020
Newsis K-EXPO 2020 | Seoul Tourism Organization CEO Award (N/A)

14th SBS Entertainment Awards | Rookie Award (Master In The House)
Check out ASTRO Social Media Accounts below: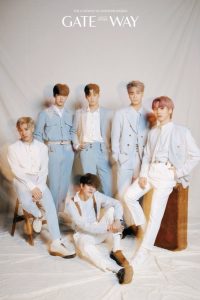 Facebook: offclASTRO
Twitter: @offclASTRO
Twitter (Japan): @jp_offclastro
Instagram: @officialastro
Fan cafe: fantagio-boys
Youtube: ASTRO channel
V Live: Astro channel
TikTok: @astro_official
ASTRO Fandom Name: Aroha
ASTRO Official Fan Colors: Vivid Plum and Space Violet
ASTRO Current Dorm Arrangement:
Jinjin & Moonbin
 MJ & Rocky & Sanha
 Cha Eunwoo (solo room)
Check out
ASTRO 아스트로 – 2nd Full Album 'All Yours' MOOD TRAILER 
#ROCKY :