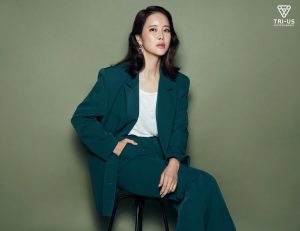 Baek Jiyoung is an Independent South Korean singer. She originally made her solo debut on June 1, 1999 with the album Sorrow. She is currently working under Tri-Us Entertainment. 
Her stage name is  Baek Jiyoung (백지영). Her birth name is  Baek Jiyoung (백지영). She was born on March 25, 1976. Her age is around 46 years old as of 2022. She is Korean by Nationality. Her Zodiac sign is Aries.
Check out and follow Baek Jiyoung's Social Media accounts:
Facebook: N/A
Twitter: jiyoungbaek
Instagram: baekzyoung
YouTube: 백지영 Baek Z Young
VLive: Baek Z Young
Early Life:
She was born in Gangnam-gu, Seoul, South Korea.
She has done education at Seoul Ilwon Elementary School
She also attends the Jinseon Girl's Middle School, Eunkwang Girls' High School, Paekche Institute of the Arts, and Kyunghee Cyber University.
Not much is known about her early life.
Physical Appearance:
She is young and beautiful. She has a slender figure. She is hugely popular among youth. She looks like a doll. She has Slim Build. Her looks make her look younger than her actual age. She has black eyes and brown hair. She has beautiful eyes that look very appealing and silky hair.
Her height is around 169 cm (5'6½") and her weight is around 57 kg (125 lbs). Her Blood group is "A".
Family, Religion & Boyfriends:
She has an older brother born in 1974 and a younger sister.
On June 2, 2013, she married the actor Jung Sukwon. They have a daughter, born on May 22, 2017, named Jung Haim.
Not much is known about her family and her relationship.
Facts:
She is having 220k+followers on Instagram.
Baek Z Young is known for her.
Aired in 2020, she was the creator and host of the show Miss Back.
She loves to do cooking.
At the 21st High1 Seoul Music Awards she won the OST Prize, in 2012.
At The Voice of Korea, she was a judge and mentor.
She is a Methodist Protestant.
She use to go out with her friends and have fun.
She took part in I'm a Singer.
As the name Jiyoung was extremely common back then, she used her stage names such as "Baek Jangmi" or "Baek Miri" before her debut. Nonetheless, she ultimately debuted using her birth name.
She is having her own youtube channel.
Latest comeback: