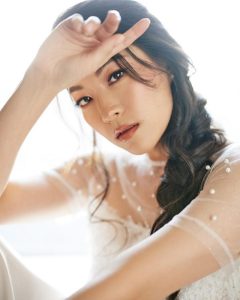 Arden Cho is an Independent South Korean actress, model and singer.  She is working under Innovative Artists.
Her stage name is Arden Cho (아덴 조). Her birth name is Arden Cho (아덴 조). Her birthday is on August 16, 1985. Her age is around 37 years old as of 2022. She is American by Nationality. Her Zodiac sign is Leo.
Check out and follow Arden Cho's Social Media accounts:
Facebook: Arden Cho
Twitter:@arden_cho
Instagram: @arden_cho
YouTube:  ardenBcho / Arden Cho
TikTok: @arden_cho
Early Life:
She was born in Amarillo, Texas, USA but raised in San Antonio/Plano and Minnesota.
She completes her graduation from the University of Illinois at Urbana–Champaign.
Physical Appearance:
She is young and beautiful. She has a slender figure. She is hugely popular among youth. She looks like a doll. She has Slim Build. Her looks make her look younger than her actual age. She has black eyes and brown hair. She has beautiful eyes that look very appealing and silky hair.
Her height is around 163 cm (5'4″) and her weight is around 52 kg (115 lbs). Her Blood group is "not known".
Family, Religion & Relationships:
She has Parents, and a younger brother named Jason.
She is a Christian.
Not much is known about her family and her relationship.
Facts:
She is having 3M+ followers on her Instagram.
She has done Bachelor's degree in Psychology.
She also studied Theater.
She wanted to become a lawyer but she was drawn to acting after taking drama classes.
 @chewy_cho. is her dog's Instagram account.
In school, she was often bullied and even physically abused back due to being a minority.
She studied piano for four years and cello for six from a very young age.
She spent four years in gymnastics with floor concentration and dance studio as well as a seven-year martial arts training.
In high school and college, she was a cheerleader.
She spent the following summer on a medical missionary trip in Kenya before moving to Los Angeles, after graduating college.
Being named Miss Korea Chicago 2004 gave her the opportunity to compete in the Miss Korea Pageant in Seoul, South Korea, for the honour of representing South Korea in the Miss Universe Pageant.
She was the Master of Ceremonies for the 2005 Miss Korea Chicago beauty pageant and the 27th Inauguration of the Korean American Association of Chicago in 2007.
In 2010, she was the co-host for JYJ's tour in the United States along with Shane Yoon.
She has done a lot of humanitarian work including visiting and helping orphanages.
She has done modelling for Clinique, Reebok Korea, Nike Japan, Vogue, Purple Fashion, Nylon Magazine, Apple, Alexander McQueen.
She likes to go out with her friends.
She has appeared in films, television series and commercials in the United States and Asia.
Since 2002, she is an avid poker player.
She started releasing songs of hers through iTunes, On February 22, 2011.
She is very active on her YouTube channel where she posts vlogs and her music regularly.
Many Asian-American celebrities such as Amber Liu, David Choi etc, are her friends.
2013's Tomb Raider as Samantha Nishimura/Stephanie/Sun Queen,  Videogame voice roles.
She dated popular Japanese-American YouTuber Ryan Higa, Between 2015–2020.
She's the CEO of Leonard & Church, a New York City-based watch company.
Arden Cho Movies:
2016

Stuck | as Alicia (also associate producer)

2014

Write It in the Sky | as Voyager (Short film)

2013

The Dressmaker's Daughter | as Barbara Kim (Short film)
Saved by the Bell | as Jessie Spano (Short film)
The Baytown Outlaws | as Angel
Olympus Has Fallen | as Korean sniper (Uncredited)

2012

Picture Perfect | – N/A (Short film on YouTube)
Mandevilla | as Min-Young Kim (Short film)

2011

Mega Python vs. Gatoroid | as Gia

2010

Ninja Say What? | N/A (Short film)
Agents of Secret Stuff | as Taylor (Short film)
I Am Not a Princess | as Anastasia (Short film)
The Grey Coat | as Jae Hee (Short film)

2009

When Lara Met Charlie | as Arden (Short documentary film)
Forgotten | as Jane Doe (Short film)
Layover, on the Shore | as Laura (Short Film)

2008

Spy Games | as Tanya (Short film)
Hoodrats 2: Hoodrat Warriors | b – Miriam
My First Crush | as Hyori (Short film)

2006

The Break-Up | as VIP Party Guest (Uncredited)
Arden Cho Television Roles:
2018

Chicago Med | Aired on NBC /as Emily
The Honor List | as Honor Liang

2017

Miss 2059 | as Arden Young
Freakish | Aired on Hulu / as Tonya

2016

Tween Fest | Aired on go90 / as Lexii C.

2015

Hawaii Five-0 | Aired on CBS / as Mia Price

2014

Castle | Aired on ABC / as Kiara
Teen Wolf | Aired on MTV / as Kira Yukimura

2013

The Selection | as Elise Whisks (Cancelled pilot)

2012

Walking the Halls | Aired on Lifetime / as Kylie

2011

Rizzoli & Isles | Aired on TNT / as Lee
Pretty Little Liars | Aired on ABC Family / Freeform / as Pru

2009

CSI: NY | Aired on CBS / as Gahee Paik

2008

Mad TV | Aired on Fox / as a Supporting role
Arden Cho Web Series:
2012

Video Game High School | as a Korean TV Hostess

2010