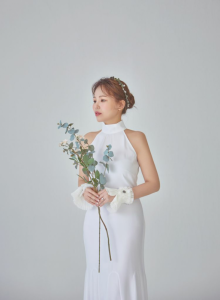 ALi (알리) is a South Korean singer-songwriter. She made her official solo debut in 2009 with the album After The Love Has Gone. She is under her own company Soul Sting. 
Her stage name is ALi (알리). Her Birth Name is Jo Yongjin (조용진). Her Chinese name is Diao Rongzhen (趙容珍). She was born on November 20, 1984. Her age is 37 years old as of 2021. She is South Korean By Nationality. Her Zodiac sign is Scorpio.
Check out and follow ALi's Social Media accounts:
Instagram: ali_korean
YouTube: 알리
Weibo: 歌手_ALi (inactive)
Early Life:
She was born in Mapo-gu, Seoul, South Korea.
She completed her education at Kyonggi Girls High School, Dankook University (Cheonan Campus), Sangmyung University.
During her college years, she formed part of the background choir for the rock band Skizo.
Not much known about his early life.
Physical Appearance:
She is very young, beautiful, hot, talented, and a hard worker girl. She has a very good figure. She is hugely popular among youth. She looks like a barbie doll. She has a Slim Build. Her looks make her younger than her actual age. She has black eyes and black long hair. She has beautiful eyes that look very appealing and stylish straight silky hairs.
Her height is around 156 cm (5'1″) and her weight is around 49 kg (108 lbs). Her Blood group is not known.
Family, Religion & Boyfriends:
Her father is the journalist Jo Myeongsik born on January 29, 1957.
She has a younger brother named Jo Yongjun born in 1993.
She's married to a man named Go Seokhoon. They have a son named Go Dogeon born on September 8, 2019.
Not much known about family and relationships.
Facts:
She has 26k+ followers on Instagram.
She writes and sings songs.
She enjoys playing tennis and working hard.
She has a vocal extension of three octaves (B5).
She was on Mystery Music Show and King of Masked Singer.
She is fashion enthusiastic.
Her baptismal name is Cecilia.
Her stage name derives from the world-known boxer Muhammad Ali.
She's an Anglican Protestant.
She is a pet lover and has a pet.
She also was a background vocalist for artists such as Big Mama, Wheesung and Gummy, who were all under YG Entertainment at the time.
She also released jazz songs for the Nouveau Deux (누보 두) project under her birth name Jo Yongjin.
She began her musical career as a guest vocalist in Leessang's 내가 웃는 게 아니야 from their third album Library of Soul.
She did so under the suggestion by Brown Eyed Soul's Sunghoon.
She was named PR Ambassador of the Korea Consumer Forum in February 2012.

She won the Grand Prize at the 2nd Hong Kong Asian Music Festival in 2012.
She was also in the musicals Turandot, Rebecca and the web musical Killer Party.
She used to be under Juice Entertainment, but terminated her contract as of 2018 and founded her own company Soul Sting.
Check out her stage performance:
Check out her singing Video:
She has a YouTube channel where she posts covers and vlogs among other contents.
Latest comeback: