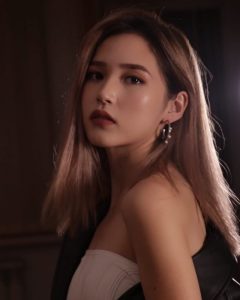 Ziruza is a Kazakhstani solo artist. She is under Trend Entertainment. She debuted on May 14, 2017 with the song "Айт ендi" ("Tell me now").
Her stage name is Ziruza. Her Birth Name is Tаsmаǵаmbet Saparǵaliqyzy Zırýzа (Тасмағамбет Сапарғалиқызы Зируза). She was born on January 10, 1997. Her age is 24 years old as of 2021. She is Kazakh by Nationality. Her Zodiac sign is Capricorn. Her Chinese Zodiac Sign is Rat.
Check out and follow Ziruza's Official Accounts:
Instagram: ziruza
Facebook: ziruza.tasmagambetova.718
Youtube: Ziruza Official/Зируза
Early Life:
She was born in Kostanay, Kazahkstan.
She studied at Kazakh University of Arts in Department of Stringed Instruments in Astana.
She moved to Almaty and studied at Tchaikovsky Music College.
Not much is known about her early life.
Physical Appearance:
She is very young, beautiful, hot, talented, and a hard worker girl. She has a very good figure. She is hugely popular among youth. She looks like a barbie doll. She has a Slim Build. Her looks make her younger than her actual age. She has black eyes and black hair. She has beautiful eyes that look very appealing and stylish straight silky hair.
Her height is around 5'2″(159 cm)and her weight is around 45 kg (99 lbs). Her Blood group is not known.
Family, Religion & Boyfriends:
She have siblings one brother and one sister.
She is super close with her CEO Erlan and his family, they are like "second" family to Ziruza.
Not much is known about his family and relationships.
Facts:
She is 611k+followers on her Instagram.
She likes drawing.
She can play piano and kobyz.
She had health issues when she was a child.
She is a makeup enthusiastic.
She collabrated with MAD MEN for the song, "ЖҮРЕК ҮНІ", on July 2020.
Her favorite city is Almaty.
Her idol is Ariana Grande.
She loves clicking selfies.
She was trainee at JUZ Entertainment and was part of K-TOP Idols.
She singing she has acted little bit in two TV series.
She can play many instruments.
Check out her tiktok video:
Her favorite is piano.
She loves horses.
She have made music and lyrics for her song 24/7.
She is close with former JUZIM's Chira.
She is a model.
Her favorite food is pasta.
She is good at singing.
Latest Comeback: