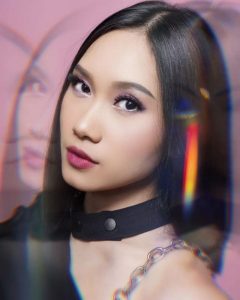 Triarona is a member of an Indonesian girl group GLASS (GLΛSS) that stands for "Girls Loud And Super Strong". Originally there were supposed to be 5 members by taking the top 5 from Z-POP Dream Indonesia but the group eventually debuted with 4 members: TRIARONA, DENISSA, EUGINE, and PB. Their name means 4 different shards of glass. In early 2020, they were set to debut but it was postponed due to pandemics and finally, their debut took place on January 22, 2021, with a single "MINE". GLASS formed from Z-POP Dream Indonesia contestants by Triarona as a part of Star Media Nusantara, MNC Group.
Her stage name is TRIARONA. Her Birth Name is  Triarona. She was born on December 6, 1996. Her age is around 25 years old as of 2021. She is Indonesian By Nationality. Her Zodiac sign is Sagittarius.
She is the Leader, Main Dancer, Lead Vocalist of the group.
Check out and follow Triarona's Social Media accounts:
Instagram: @triarona 
TikTok: @triarona
YouTube: Triarona
Early Life:
She was born in Indonesia.
Not much known about his early life.
Physical Appearance:
She is very young, beautiful, hot, talented, and a hard worker girl. She has a very good figure. She is hugely popular among youth. She looks like a barbie doll. She has a Slim Build. Her looks make her younger than her actual age. She has black eyes and black short hair. She has beautiful eyes that look very appealing and stylish straight silky hairs.
Her height is around 5'7" (170 cm) and her weight is around 55 kg (122 lbs). Her Blood group is not known.
Family, Religion & Boyfriends:
Her cousin name is Putri Farin Kartika(Former trainee JKT48).
Not much known about his family and relationships.
Facts:
She has 503k+ followers on Instagram.
Her hobbies are drawing and writing poetry.
She likes singing and dancing.
She loves to make reels on Instagram.
She doesn't like junk food.
She is a fan of Cha Eunwoo.
She has a youtube channel where she can upload vlogs and other content.
Her parents were supportive of her when she joined Z-POP.
She has almost 3 million followers on TikTok.
She has a cat named "Cimut".
She is the one who came up with the idea of forming a group.
She is fashionable.
She was a member of JKT48 under stage name Tya from 2014 until 2016.
She was a contestant on Z-POP Dream Indonesia in 2019.
She likes hip-hop girly and ladies' style genre of dance.
She wants to be a singer and actress in the future.
She has done professional photoshoot.
She does not like cockroaches and spiders.
Her favourite phrase is "Stand out more than those around you".
Her biggest hardship is the fear of not being able to reach people's expectations.
Her biggest inspiration since high school.
Latest Album:
Check out and follow the GLASS Official Accounts: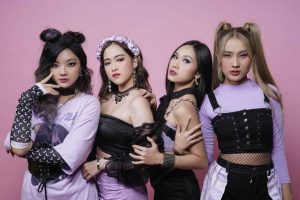 Instagram: dgbox_official
Twitter: GLASS_ofc
TikTok: official.glass
YouTube: DG BOX