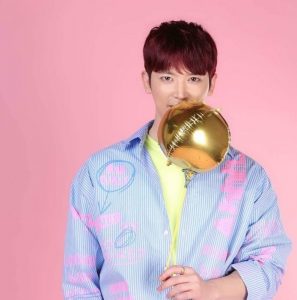 Shin Hyunwoo is a South Korean Singer. He debuted as a solo artist on January 25, 2017, with the single album 죽지못해 살아.
His Stage name is Shin Hyunwoo (신현우). His birth name is Shin Hyunwoo (신현우). His age is around 28 years old as of 2021. He is South Korean By Nationality. His Zodiac sign is not known.
Check out and follow Shin Hyunwoo's Social Media accounts:
Instagram: shinhyunwoo.officialvn
Twitter: N/A
Daum Café: shintto
YouTube: Shin Hyun Woo Official
Early Life:
He was born in Seoul, South Korea.
He attended his education at Changwon University.
Not much is known about his early life.
Physical Appearance:
He is young, smart, and handsome. He is popular among youths. His looks make him look younger than his actual age. He has black eyes and black hair.
His height is around 5'11" (181 cm) and his weight is around 76 kg (168 lbs). His Blood group is "B".
Family, Religion & Girlfriends:
Not much is known about his family and relationships.
Facts:
He has 19K+ followers on Instagram.
He is active in Vietnam.
He has done many professional photoshoots.
His nickname is Shinto.
He is foody.
He

speaks Korean and English.

He

loves to hang out with friends.
He sings live at his friend's wedding while wearing masks he feels inhale and exhale both he did very well.
He is currently living in Seoul, South Korea.
He takes care of his face skin.
He

is good at playing the Guitar.
He performed many stage performances.
He likes taking mirror selfies.
He is a member of the group BANANABOAT from 2006 to 2007 and also 2020. In 2021, his fans waiting whether the group is still active or not.
He works out every day.
He promotes the skincare brand.
He has a youtube channel way he uploads cover albums, vlogs and other content.
Check out the Music Video: