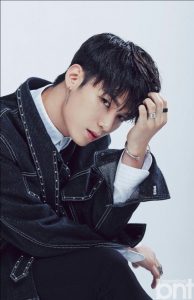 Hangyeom (송한겸), formerly A-Day (에이데이) is a member of an upcoming South Korean project boy group named OMEGA X (오메가엑스). This group consists of 11 male members: Hangyeom, Jaehan, Hwichan, Sebin, Taedong, Xen, Jehyun, Kevin, Junghoon, Hyuk, and Yechan. The group will be going to debut in the first half of 2021. The group is under Spire Entertainment.
His stage name is Hangyeom. His birth name is Song Han Gyeom (송한겸). He was born on July 17th, 1996. His age is 24 years old as of 2021. He is Korean by Nationality. His Zodiac sign is Cancer. His Chinese zodiac is N/A.
Her position is Leader, Main Rapper, Main Dancer, Vocalist, Visual of the Group.
Check out and follow Hangyeom's Social Media accounts :
Instagram: songhangyeom_aday.soc
SoundCloud: SongHanGyeom 송한겸 Aday
Early Life :
He was born in Seoul, South Korea.
He completed her education at Dongguk University.
Physical Appearance: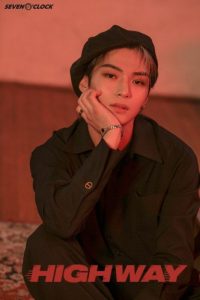 He is young, smart, and handsome. He is popular among youths. His looks make him look younger than his actual age. He has black eyes and brown hair. 
His height is 176 cm (5'9″) and his weight is 62 kg (136 lbs). His blood group is not known.
Family, Religion & Girlfriends:
He is an only child. Not much known about her family and her personal Relationship.
Facts:
He has 43k+ followers on his Instagram.
He speaks English & Korean.
He is a pet lover and has a pet cat.
He is the original member of the group.
He was a trainee at V Spec Academy for around three years.
He endorses many brands.
He has good dancing skills.
He likes dancing, rapping, composing, and writing lyrics.
He is good at playing guitar.
He also likes X by Chris Brown and Turns off Your Phone by Jay Park.
He recommends Infinity War.
He has a streetwear style.
He's an impulsive shopper.
He's in charge of sexiness.
He wrote the lyrics for Searchlight.
He was a contestant of MIXNINE ranked 6th. 
He is currently a member of the boy group OMEGA X.
He is fond of clicking selfies.
Favorites :
His favorite color is black.
His favorite foods are burgers and iced coffee.
His favorite song by Seven O'Clock is Time Machine.
Check out OMEGA X Social Media Accounts below: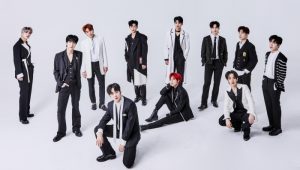 Company Twitter: SPIRE_ENT
Official Twitter: OmegaX_official
Members Twitter: OMEGA X
Japan Twitter: OmegaX_JAPAN
Instagram: OMEGA X
YouTube: OMEGA X
Fancafe: OMEGA X
Check out Debut Trailer: