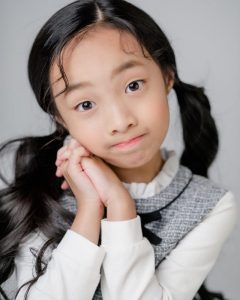 Habeen (하빈) is a member of a pre-debut girl group named Kidols(키돌즈). Group consists of 5 members: Loda, Jenny, Chaeyeon, Habeen, and Hayoon. They are going to debut in October 2021. Every member is also a model and/or actress. The group is under One Company.
Her stage name is Habeen (하빈). Her Birth Name is Jung Habeen (정하빈). She was born on 29 October, 2012. Her age is 09 years old as of 2021. She is Korean by Nationality. Her Zodiac sign is not known.
She is the Vocal, Dancer of the Group.
Check out and follow Habeen's Social Media accounts:
Instagram : @habeen121229
Twitter: N/A
YouTube: N/A
Facebook: N/A
Early Life:
She was born in Seoul, South Korea.
Not much is known about her early life.
Physical Appearance:
She is Young, beautiful, and hot. She has a slender figure. She is hugely popular among youth. She looks like a doll. She has Slim Build. Her looks make her look younger than her actual age. She has black eyes and brown hair. She has beautiful eyes that look very appealing and long silky hair.
Her height is around 4'0" (122 cm) and her weight is around 22 kg (48 lbs).
Family, Religion & Boyfriends:
She has two twin younger brothers, Hayul and Hayoon.
Not much is known about her family and her personal relationship.
Facts:
She

has 700+ followers on Instagram.
She

speaks Korean and English.
She was the second member to be revealed.
She can play the violin.
She is a child model.
Check out her TikTok video:
Drama, Films & Series :
2020.09 tvN drama "Day and Night" past scene (fixed),
2020.09 KBS Drama Special "Outing"
2020.10 NETFLIX drama "Now our school" as a young zombie
2020.10 KBS2 drama "Do Do Sol Sol La La Sol" Contest Friend
2020.10 OCN drama "Wonderful Rumor"
2020.10 NETFLIX drama "Now Our School" as a neighborhood child
2020.10 NETFLIX drama "DP Dog Day" as the younger sister,
2020.11 KBS1 drama "No matter what anyone says"
2020.11 tvN drama "Day and Night" as experimental subject child,
2020.11 JTBC drama "Senior, don't put that lipstick on"
2020.11 Korea-U.S. joint drama "Pachinko" 1938 child
2020.11 Kakao TV "How to love city men and women"
2020.12 KBS2 historical drama "The Secret Investigation Team of the Joseon Dynasty"
2020.12 OCN drama "Wonderful Rumors" as orphanage child
2020.12 JTBC drama "Hush",
2020.12 NETFLIIX drama "Kingdom 3" Yeojinjok child
2021.03 Creers 5th Independent Short Film "Familiar" Ji-Young_Starring
2021.05 Hoseongnim Joo's Theater Company_One_Play "Sojakji" Youngest brother performance practice in progress (August 10, 21, Daehangno Space Owl performance)
Habeen Model & Advertisment :
2020.07 Naver News pictorial article shooting
2020.11 Photomato Co., Ltd. "AI artificial intelligence" stock model shooting
2020.11 "Korea Institute of Science and Technology" artificial intelligence learning life safety advertisement shooting
2020.12 "Korea Institute of Science and Technology" AI data motion advertisement shooting for artificial intelligence learning
2021.01 "Charmanbebe" shopping mall 2nd fitting model shooting
2021.02 "KM Pharmaceutical" children's oral drug viral advertisement shooting
2021.02 "Hope Friends Hunger Measures" Yeeun's Advertisement Video Shooting
2021.04 "Lupin Studio" idol parody concept model_Brave Girls st
2021.04 One Company 2020 exclusive "Kids Idol" selected (September 21, soundtrack to be released)
Other brodacasting :
2020.11 KBS2 live information "Let's protect personal information" Elementary school students filming and interview
2020.12 YTN Science "Talking Hak" Observation Camera Main Character <All-round Entertainer_Jeong Ha-bin>
2021.03~ Present *YouTube channel "Kurjam TV" shooting in progress (fixed)
2021.04 weTV Danglish English Dance Program_USA
Awards :
2021.01 Global Influencers Association Kids Model Contest "Excellence Award".
2021.02 45th Cinderella Scholarship Sponsor grand prize.
Check out and follow the Kidols's official accounts: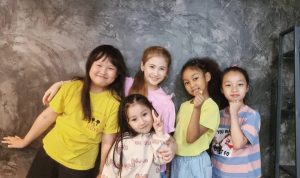 Instagram : @kidols_official_
Instagram (Company) : @one_company2020