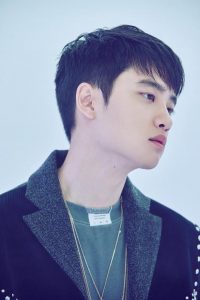 D.O. (디오) is a member of the Kpop Boy group named EXO (엑소). Group consists of 9 male members: Suho, Xiumin, Lay, Baekhyun, Chen, Chanyeol, D.O., Kai, and Sehun. The group debuted on April 8, 2012. The group is formed under SM Entertainment.
His stage name is D.O. (디오). His Birth name is Do Kyung Soo (도경수). His Chinese Name is Du Qing Zhu (度慶洙). He was born on January 12, 1993. His age is 27 years old as of 2021. He is Korean by Nationality. His Zodiac sign is Capricorn.
He is the Main Vocalist of the group.
Check out and follow D.O. Social Media accounts:
Sub-unit: EXO-K, EXO Main Vocal Line
Instagram: @kimjuncotton
Early Life:
He was born in Goyang, Gyeonggi Province, South Korea.
He completed his education at Baekseok High School.
Physical Appearance: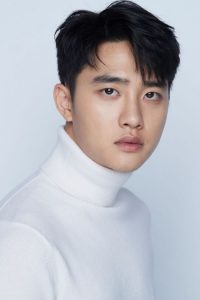 He is young, smart, and handsome. He is hugely popular among youths. His looks make her look younger than his actual age. He has heart-shaped lips, round black eyes, and black short hair.
His height is around 172 cm (5'8″) and his weight is around 60 kg (132 lbs). His Blood group is A.
Family, Religion & Girlfriends:
He has an older brother, Do Seungsoo.
Not much known about her family and her personal Relationship.
Facts:
He speaks Korean and English.
He is a fashionista.
He was a kid ulzzang.
He officially joined SM Entertainment in 2010 after winning a singing competition.
His parents were very supportive of him becoming a singer.
His nicknames are Heenjabuja, Umma, Orchestra boy, The pop-out eyes, Pororo.
He's very shy with strangers.
He has the habit of biting his nails.
He is close with Kai.
He likes singing while Chanyeol plays the guitar.
He can play the piano.
He loves cooking and mostly cooks for the members.
He has a habit of humming songs.
His hobbies are Interpreting lyrics, singing, beatboxing.
He is close friends with BtoB's Lim Hyunsik.
He is close with Jo Insung and Lee Kwangsoo.
He is a fan of f(x).
He respects TVXQ's Yunho a lot.
His role model is Yoo Young Jin (composer).
He received many awards and praise for his acting in dramas like "It's Okay, It's Love" and in movies like "Cart".
He enlisted on July 1st, 2019.
D.O's ideal type is a girl who is kind and eats well.
Favorites:
His favorite type of music is Pop.
His favorite type of movie is Fantasy movies.
His favorite number is 1.
His favorite color is black.
His favorite food is Spaghetti.
His favorite song is Travie McCoy's "Billionaire" ft. Bruno Mars.
Dramas:
"To The Beautiful You" (2012, cameo)
"It's Ok, This is Love" (2014)
"Hello Monster" (2015- ep. 1-2)
"EXO Next Door" (2015)
"Be Positive" (2016)
"Be Positive" (2016)
"100 Days My Prince" (2018)
Movies:
"Cart" (2014)
"Unforgettable/Pure Love" (2016)
"My Annoying Brother" (2016)
"Along With the Gods: The Two Worlds" (2017)
"Room No.7" (2017)
"Swing Kids" (2018)
Check out EXO'S group Social Media Accounts below: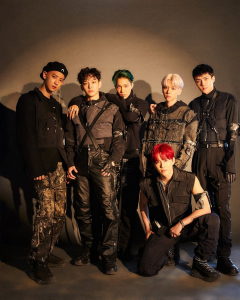 Instagram: @weareone.exo
Twitter: @weareoneEXO
Facebook: weareoneEXO
vLive: EXO channel
Official Website: exo.smtown.com
Youtube: EXO Channel
EXO Fandom Name: EXO-L
EXO Official Fan Color: Cosmic Latte
Latest Korean Comeback: